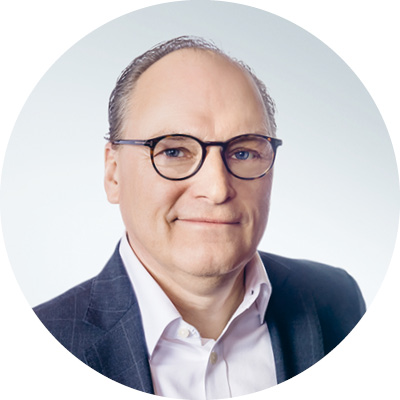 The race is on to win the Automotive Customer Experience transformation
Dirk Wollschläger
CEO, W& Consulting
Former General Manager Global Automotive Aerospace & Defense Industries, IBM Corporation
The automotive industry has begun to (re-)evaluate what they need to do to succeed in a digital world where customer experience is key to success.
Today's reality and the challenge ahead
Gone are the days when the only way to buy a car was to walk into a dealership with the fear of being pressured and »sold to«. For many customers, visiting a car showroom has lost its attractiveness, they prefer the convenience of digital interactions.
Today, most customers are well educated when they engage with a brand or dealership. Many customers have already done comparisons about driving performance, vehicle reliability, price and financing options. 71% of buyers confirmed that they did intensively research and compare vehicles online before purchase, while nearly half expect to wait until they are very certain a vehicle is a good fit before contacting a dealer according to a recent IBM study.
Many automotive manufacturers are still in a push mode, putting pressure on their dealers with predetermined purchase quantities and short-term campaigns. It's not a secret that dealers hardly earn anything from the sale of new vehicles.
Over the past years, automakers have stepped up their role in generating (digital) leads, which they then pass on to their dealers who follow up by facilitating a test drive and then, hopefully, closing the sale. For many original equipment manufacturers (OEMs) the primary point of customer contact is still the auto dealer.
In line with recent studies, 60 percent of car buyers under the age of 45 are likely to purchase their next car online and are interested in contactless sales and services. These online buyers expect real-time customer service, switch brands if they do not get a consistent experience across all channels and quit their online cart if the checkout process is not convenient. There is no reason to assume that expectations will be lower with car buyers.
In addition, the time is rapidly approaching when customers may still buy from a car brand, but they won't necessarily buy »a car«. As stated by a recent IBM Study, 80% of automotive executives expect that by 2030 they will generate more than 10% of their revenue from mobility services – any nontraditional way of getting from one point to another, using ride-sharing, ride-hailing, micro-transit and mobility-as-a-service.
Today's customers want a seamless experience across all modes of interaction which requires a correspondingly seamless data exchange among drivers, vehicles, dealers and OEMs. Most OEMs still separate their interactions with eCommerce buyers from their dealers' interactions with potential drivers – even if they happen to be the same individuals.
New tech-led, data-rich, electric vehicle manufacturers are focusing on customer-centric innovation. This new battleground of a tech-enabled and data-driven customer experience is not a focus area of the traditional automotive industry so far, but to win the race, OEMs need to be bolder and more committed to a faster digital transformation.
From primary to many – OEMs need to engage with customers wherever they are.
Internet searchers are one obvious, but diverse, channel. There is also the world of social media, where potential customers can observe, comment, read reviews and reactions. And there is an emerging market for online car sales, which is growing at a rate of around 40% year-on-year.
Some assume that the »traditional« buying journey and the »new« online car sales journey are somehow separate as if conducted by different sorts of buyers on different sorts of journeys, with no overlap or need for compatibility or integration. This is obviously not the case.
Most people fall somewhere on the spectrum between »purely online« and »purely offline«. That means OEMs need to pick exactly the right time to engage their customers – wherever they are. They also need to acknowledge that it's not just lead channels that are changing, eCommerce sales channels now allow a fully immersive online sales experience for direct buying.
When the right data is collected and properly analyzed, it can even enable proactive lead generation.
Leads can come from almost anywhere.
Customers may ask for assistance via a chatbot, call center agent, or live chats. They might even enter a video call with a dealer to detail their preferred vehicle or the financial model.
In the world of connected vehicles, there is also a steadily growing stream of data available from that fleet. On the surface, such data tells a story of driver habits and journeys. But when combined with advanced data analytics using a variety of data, deeper stories of customer preferences and interests as well as opportunities to interact can emerge. This analytics-led customer experience is key to understand what individual value should be offered to which customers. These insights can help to generate more potential leads and rapidly discover, design and scale solutions that thrill customers.
When the right data is collected and properly analyzed, it can even enable proactive lead generation. An OEM can create reasons for contacting customers that appeal to them because AI-driven analytics help pinpoints where a customer's unique interests intersect with those of the OEM.
To do this effectively, OEMs and partners across their collaborative business ecosystem need to thoroughly understand the various journeys customers may undertake and the best ways to meet them along the way. This includes knowing when rapid referral is essential – regardless of whether the current interaction is digital or face-to-face. In some cases, this could even mean referring a customer to a third-party service for a need that the OEM or dealer is unable to fulfill. When done well, these new integrated experiences can also help avoid a pitfall common to online, self-service purchasing. Guided experiences, which can be integrated across the online and physical environment, enable a trusted advisor – with assistance from AI – to help clients make value-based decisions. Customer experience has replaced hardware engineering capabilities as automaker's critical success factor to outperform. Whatever sales channel customers choose OEMs need to build a data fabric to capture and integrate customer data at all touchpoints – the digital touchpoints managed by the OEMs and its sales organizations, the physical touchpoints with the dealer and finally, the connected vehicle with the huge amount of data generated every day. To ensure the speed and progress of the customer experience transformation a set of Key Performance Indicators is needed to manage the performance at the dealer and the National Sales Company (NSC). This continuous assessment is key to review whether the new services are right, do not go far enough, or are not understood by the customers and only used by a few. Such a continuous process is a must because customers' expectations evolve continuously.