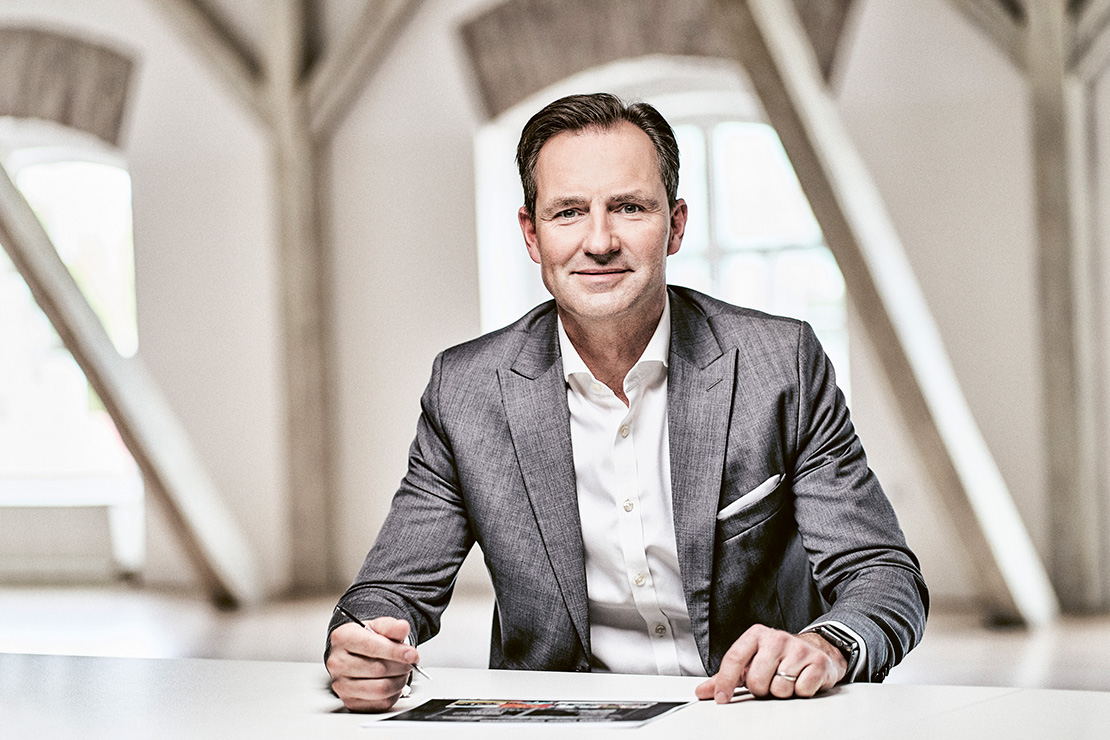 Thomas Schäfer, CEO, ŠKODA
The automotive industry is undergoing a rapid change, while a global virus plagues our society and economy. It is in these extraordinary times that Thomas Schäfer has stepped into his new role as ŠKODA CEO. Nevertheless, the man of action and his team are devising a promising programme for the future. On the agenda are further growth, additional Group responsibilities and ambitious sustainability goals – Schäfer's specialities
A crisp November day in the Czech Republic. The sun takes a long time to appear, rising at 7:01. That doesn't stop Thomas Schäfer from kick-starting his morning with a jog around his new hometown of Prague at half-past four in the morning – despite it still being dark and not being a fan of headlights. It's his ritual, no matter where he lives in the world: "It's the best time to think, to clear your head," explains the early riser – an important routine, especially now that he is dealing with many new issues every day.
Thomas Schäfer has been CEO of ŠKODA for almost one hundred days now and works in the city of Mladá Boleslav, where the brand's headquarter is located. For this, he left "his" South Africa, where he had been Chairman and Managing Director of the Volkswagen Group for five years.
He moved to another continent amid a global pandemic – a circumstance which, in Schäfer's own words, did not influence his decision, but "complicated it logistically". Despite this, the native Hessian is here now, sitting in a conference room with white vertical blinds as he takes part in our Skype interview remotely, another sign of the changing times.
ŠKODA ENYAQ iV
The electric SUV comes with two drive variants, three battery sizes and five power levels between 148 and 306 hp. It also promises a range of up to 536 kilometres in the WLTP cycle, numerous connectivity options, and – as typical for ŠKODA – a spacious interior. Not to mention the charger cable cleaner, one of the many "Simply Clever" features from the clever Czech car manufacturer.
The schedule is tight; he has just arrived from a photoshoot at the ŠKODA Design Centre in Česana. Alongside the 'host', ŠKODA's head of design, Oliver Stefani, Schäfer posed next to the OCTAVIA RS iV and the ENYAQ iV – two new models of great importance to the Czech car manufacturer.
They represent the path towards electric mobility that ŠKODA has embarked on. The model range is gradually being electrified – ten electric and partially electric vehicles are planned by 2022.
It is also worth mentioning that ŠKODA produces vehicles based on the Modular Electrification Toolkit (MEB) – directly in Mladá Boleslav. This is a production privilege that within Europe is usually reserved for VW, and the Czechs are very proud of it.
The Gamechanger
They are equally proud of the ENYAQ iV. Schäfer presented it to the public at the world premiere in early September. It was his first major engagement as CEO when he appeared on stage alongside the first MEB battery-electric ŠKODA. "For us, the ENYAQ iV is the next step into a new era at ŠKODA," Schäfer summarised again today in front of his laptop in the conference room with vertical blinds. His use of English in his everyday life is immediately noticeable.
All the better, because his formulation creates the perfect transition: ideally the 'Next Step' is followed by the 'Next Level' – which brings us to ŠKODA's similarly named programme for the future that Schäfer and his team have drawn up.
The priorities include expanding the model portfolio in the entrylevel segment, opening up new markets for further growth, and making a stronger commitment to sustainability and diversity. "Expand, Explore, Engage" is how the CEO aptly sums it up. Topics he is familiar with – after all, Schäfer can now look back on almost 30 years of experience in the automotive industry since he started his career at Daimler AG in 1991.
Designing rather than managing
Looking at his CV two things stand out: Firstly, this cosmopolitan man apparently has no problem with regularly relocating to another continent. Secondly, he has often built something from the ground up where there was nothing or very little before.
Founding DaimlerChrysler Malaysia from 2002 to 2005 as Chief Technology Officer is an example of this. In 2012, he moved to the Volkswagen Group, where he was in charge of foreign production, among other things – before returning to South Africa, where he had worked prior to 2002, to further develop the Group brands in the sub-Saharan region. "I am passionate about creating things. If you put me somewhere where I had to operate something, I would probably wither like a rose," comments Schäfer.
Fortunately, this floral fate does not threaten him at ŠKODA, on the contrary, all signs point to growth; through major product campaigns such as the new FABIA generation, the product upgrades of ŠKODA's popular SUV models and the
ENYAQ iV family. Also, the addition of battery-electric models will be essential: "We are in exploratory talks with the VW Group about this".
And in addition to significantly increasing capacity by more than 150,000 units, ŠKODA wants to open up new markets, especially in Southern Europe: "There is huge growth potential in the entrylevel segment in this region. And we are ideally positioned to attack with the right models."
Schäfer appears to have settled in well and is clearly enjoying his new role as CEO: "It is a great challenge being completely responsible for this brand – a true global player with a broad model portfolio and over 42,000 employees." For him, these are not economic variables, but rather the people who make all the difference. "I want to understand what makes ŠKODA tick and what motivates the team," he wrote in a letter to the staff at the beginning of August. Has he succeeded in doing so? "To the extent that COVID-19 has allowed. Of course, I would have preferred to have had much more direct contact with my colleagues," admits the son of a middle-class family of craftspeople, "but that's not possible at the moment."
I want to understand what makes ŠKODA tick and
what motivates the team.
Not an easy time for a communicative boss who likes to hold discussions in the canteen or make impromptu visits to colleagues in their offices. "This confuses people a bit at first, of course, but they get used to it." Because Schäfer knows, "This gives you an unfiltered impression – on an equal footing."
Sustainability? Of course!
Internal cohesion, he said, was important to him so that the ambitious plans could be successfully implemented. For example, in addition to further growth, ŠKODA is also confidently striving for more Group responsibility, and from January 2021 will also be managing the regions of Russia and North Africa, as well as India, for the Volkswagen Group. Additionally, the Czechs will be taking over the technical development of the VW PASSAT and ŠKODA SUPERB models, the next generations of which will be produced in Bratislava: "This is a great opportunity to show what potential the ŠKODA team has."
And then there is the issue of sustainability, which Schäfer considers a matter of importance.
Not because car manufacturers are unable to get around it but because he has seen, with concern, the direct effects of climate change in his adopted home of Africa. "In Angola, for example, millions of people will lose their homes in the next three years because nothing will grow there anymore." CO₂-neutral production, which begins with the ENYAQ iV, will give a 30% reduction of fleet emissions by 2025 and of course the changeover to electric mobility are just some of the ecological goals included in ŠKODA's GreenFuture strategy.
So, ŠKODA has a lot planned for the next decade under the leadership of Thomas Schäfer – tasks that require going out and designing things. The possibilities for this have been limited in recent months. Nevertheless, Schäfer is optimistic, not least because he took over a well-positioned company from his predecessor, "So far ŠKODA has managed to cope well with the crisis. Of course, volumes have declined, but at the end of September, we recorded an operating profit of 469 million euros. In a crisis like this, that's outstanding."
ŠKODA's CEO is happy to be in the Czech Republic, which is mainly thanks to the positive reception he received from the team – something he often talks about. This makes it all the more important for him to return this positivity, to be "on an equal footing with everyone", as he emphasises again and why his colleagues can expect the occasional surprise visit.
In February, he will finally be reunited with his wife and their three dogs from South Africa. Until then, he plans to continue enjoying Czech cuisine alone and jogging through Prague to clear his head – at half-past four in the morning.