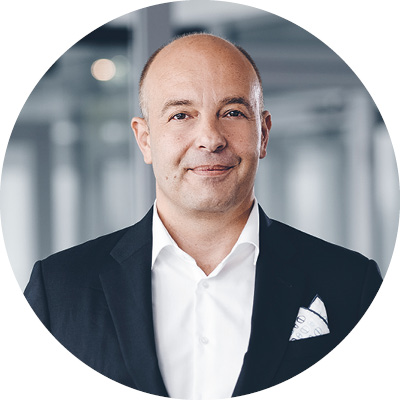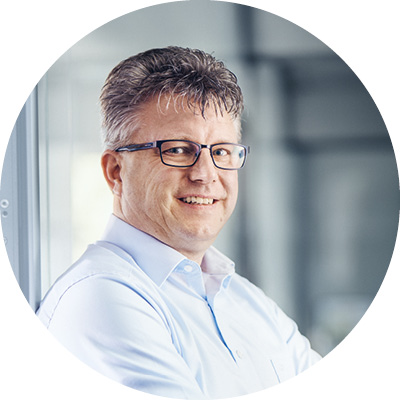 Cosimo De Carlo / Dirk Keller
CEO, EDAG Group / Managing Director, EDAG Production Solutions GmbH
Everything is connected with everything else. This applies all the more when megatrends such as digitalization, urbanization, mobility and connectivity are setting the guidelines for the future.
As one of the leading independent mobility and technology developers, EDAG Group brings together subjects and movements which go far beyond silo solutions in the mobility market. This is already giving rise to surprising and exciting prospects for how a smart city und smart infrastructure might function.
»Man becomes what the city makes him, and vice-versa.« This is the hypothesis on which the essay »The Inhospitableness of our Cities« centers. In the 1960s, physician and psychoanalyst Alexander Mitscherlich associated this with an »incitement to discord«, and made a lasting impression on architects, urban planners, sociologists, and student groups. Since then, the majority of cities have for the most part continued to grow unchecked, creating more and more overcrowding and traffic, with all the problems these bring about for the environment and coexistence. But it might not be long before the interdependence of man and the city conjured up by Mitscherlich receive a positive boost. Quiet, clean, green – this is what the city of the future should look like. Intelligently networked in a collaborative ecosystem: the smart city.
However, this transition is not something that can be accomplished by politicians, urban planners and architects alone. Indeed, in order to bring about the future-proof »smart city«, very many different skills will need to be brought together. Because in the age of digitalization and networking, a city is a complex, interconnected ecosystem defined not only by architectural and structural innovations, but also by a »smart« infrastructure, smart mobility and smart administrative structures.
»We are experiencing the dawn of a new era and a new dimension,« explains Cosimo De Carlo, CEO of the EDAG Group. At EDAG, this transformation comes under the heading »reinventing mobility – reinventing yourself«.
As one of the largest independent technology developers working for and with OEMs around the world, the EDAG Group gets innovations relating to vehicle conception and engineering, safety and driving comfort off the ground. In 360-degree engineering, an all-round view of mobility has become the focus of developers. And thus the smart city, too. »Our software and digitalization experts are employing the intelligent networking of data, the use of standardized software and the development of a collaborative ecosystem that have been tried and tested in the automotive sector to help cities, municipalities and infrastructure providers,« says the EDAG Group CEO.
Parking garages are in this way transforming into smart mobility hubs that counteract gridlock and parking shortages in urban areas.
An all-round, fully scalable mobility concept
This is represented in particular by the EDAG CityBot. »Our highly automated robot vehicles and tools are the world's first all-round, fully scalable mobility concept for the smart city.« »A real game changer that for the first time ever combines smart mobility, smart infrastructure and smart government,« explains Cosimo De Carlo. The EDAG CityBots are currently being put through extensive tests under real lab conditions in the »Campus FreeCity« at the Deutsche Bank Park in Frankfurt. The aim is to show what the combination of highly automated driving and increasingly dynamic urban and economic areas might look like in the future.
»Everything will have to be faster, safer, more sustainable and more comfortable. These are the challenges for the cities and municipalities for which technological solutions will have to be found,« sums up the EDAG Group's CEO.
»For mobility solutions in the smart city, we can draw on an almost unlimited, integrated skills, product and production portfolio. When developing smart use cases, we focus on open source smart city data platforms. For app development, process consulting and digitalization, we use suitable workflow platforms,« stresses Dirk Keller, Managing Director of EDAG Production Solutions GmbH.
»As an innovative partner to cities and municipalities,« says Keller, »we take on responsibility for designing and implementing everything from tailor-made, individual services through to the support and selection of fully integrated smart city platforms.« In the process, EDAG uses its own white labeling product modules, existing standards, open source and open data technologies. »And all of this in a collaborative partnership in an efficient implementation network. In this way, we succeed in arriving at the best solution for the particular application and rapid success of our projects.«
This is shown by a variety of different examples of the intelligent design of public spaces and the integration of smart mobility and service functions. Trive.park, for instance, a specially developed data and payment platform for digital parking services. »Parking garages are in this way transforming into smart mobility hubs that counteract gridlock and parking shortages in urban areas,« explains Cosimo De Carlo. »The app marks a turning point in the move towards the digitalization of parking garages and the entire parking process. So parking garages are being transformed into smart mobility hubs.«
Connectable, modular smart mobility for rural areas
While the scarcity of parking space is one of the more difficult problems in densely populated cities, other challenges determine everyday life in rural areas. For this reason, EDAG, in the course of the »Smart cities made in Germany« funding program, was recently instrumental in driving forward a pilot project for modular mobility in rural areas. This was carried out in Eichenzell, a town with a population of 11,000 in the East Hessian district of Fulda, and the aim was to show how mobility hubs can help promote alternative forms of mobility – for both innovative logistics and transportation tasks in rural areas. To this end, different types of mobility, public transport for instance, are to be combined with other road users such as pedestrians or cyclists at selected transport hubs.
Depending on the location, a wide variety of functions are connected to the mobility hubs: these range from ticket machines, passenger information, on-demand services and car sharing vehicles to bicycle parking facilities, bicycle hire, lockers, and electric charging stations – for both bicycles and cars. Pedelecs, electric scooters and cargo bikes are also to be combined with other services when required, e.g. packing stations. Looking to the future, there are plans to set up these modular stations in all the villages throughout the area, always geared to the very specific needs of the locality concerned. »EDAG Production Solutions has overall responsibility in the pilot project for the entire project management, the participation formats for citizens, the IT concept, and also for the EU-wide technology benchmark and the energy concept,« explains Dirk Keller.
Interface for freely available context data
The key to the successful design of the smart city, smart infrastructure and smart government lies in the direct availability of data and information. »Since many data providers and IoT devices only have proprietary interfaces, we joined the open source initiative FIWARE,« says Keller. »Freely usable software components for processing context data create the necessary conditions for communication between different subsystems in and on the data platform.« One early result of this is the open source project »Dashboards for Smart Cities«, which was launched by EDAG with the city of Paderborn. This displays city functions and services in real-time, so involving interested members of the public in the improvement of everyday city life. Using a simple ticket system in the citizens portal, the dashboard might, for instance, be used in another town to report cases of garbage or damage (such as trash cans that have fallen over, broken sidewalk slabs) in the city.
This is a win-win situation for everyone and takes the quality of the relationship between citizens, government and service providers to a new level.
»The digital twin provides digital support for different areas of urban life. This creates the basis for a complete reference architecture for smart cities,« emphasize Dirk Keller. »In this way, we make it as easy as possible for municipalities to host a data platform and connect it up to a functional dashboard in the Corporate Identity of the municipality concerned, so that it can be used very easily and intuitively by the citizens.«
Smart government means that decisions can also be made and optimizations carried out on the basis of concrete datasets. »This is a win-win situation for everyone and takes the quality of the relationship between citizens, government and service providers to a new level,« explains Keller. Word of the advantages of the dashboard has got around. Following Paderborn, says Keller, additional projects have since been completed in Ulm and Hünfeld. In Sweden, too, first attempts have already been made with the digitalization of city and service functions.
Data analysis provides protection against extreme weather
A heavy rain early warning system created by EDAG and the Herzogenaurach-based company Spekter GmbH is also pointing the way to greater traffic and infrastructure safety. This evaluates weather data from more than 200 sensors and measuring stations specially installed in sewers, on bridges, in public buildings and on rivers and lakes. In the event of imminent danger due to the type of heavy rain events that have recently been gaining in frequency, the authorities, emergency services and citizens can be alerted in several stages via app, email, text message or phone call. By the end of 2023, the lighthouse project of the District of Fulda is to have been rolled out in 19 towns and villages in the region.
EDAG has also developed another important component in the project, namely a digital heavy rainfall participation platform. Using the interactive website, residents can report hazardous situations that have already occurred in the entire Fulda region. These might involve overflowing sewers, over-full ditches, and culverts clogged by wood or other debris: The data from these regional heavy rainfall hazard maps is transmitted to the relevant towns and/or authorities, where it can be evaluated and arrangements made for preventive countermeasures if necessary.
What does such a holistic perspective on living and mobility environments mean for EDAG? »With our advanced skills as engineering service provider for the automotive industry«, stresses EDAG CEO Cosimo De Carlo, »we can assume a key role as interface between the mobility industry and the public sector.
Since software and user centric development have been redefining mobility, our attention is also increasingly turning to services with the best possible user experience. By constantly ›reinventing mobility – reinventing ourselves‹, we are creating the foundations on which the smart city and the smart infrastructure of the future will be built.« Even the angry Alexander Mitscherlich would presumably have taken the greatest pleasure in making his peace with such a significant counterpoint to the »inhospitableness of cities«!