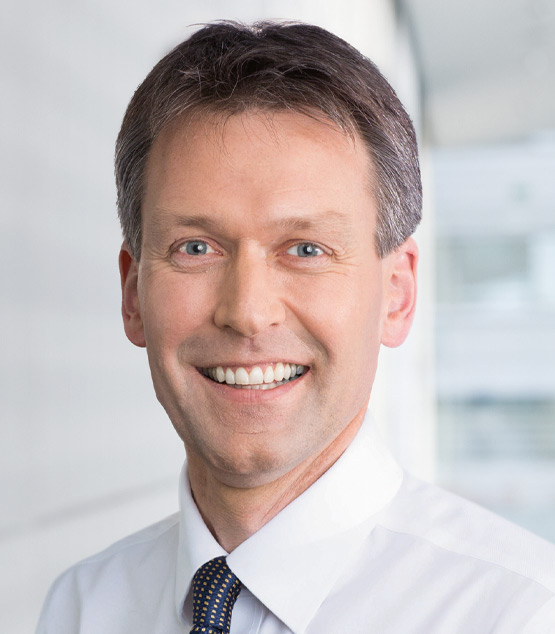 NXP: More Mobility.
More Responsibility.
Lars Reger
Chief Technology Officer (CTO), NXP Semiconductors
Whatever viewpoint you look at the automotive industry from, change is omnipresent. Never in the history of our human relationship with automobiles have so many exciting disruptive forces come together to create such a profound impact. The megatrends, connectivity, autonomy, and electrification have accelerated vehicle design and innovation and they are also transforming the automotive ecosystem and supply chain. The impact of this change is not only limited to the industry but also strikes at the heart of our social interaction with mobility as it opens up to embrace different devices, models of transportation, vehicle ownership, and the increasing emphasis on the social and environmental responsibilities associated with increasing mobility.
Market Opportunities and Responsibilities
A wealth of exciting and powerful electronics are built into today's vehicles. Feature-rich infotainment systems keep us informed of traffic delays ahead on our route, radar subsystems warn us of obstacles, and collision avoidance systems take control to avoid potentially disastrous situations. Market estimates* indicate that semiconductor companies can expect the average revenue of their products per vehicle to triple: from today's baseline of $380 worth of semiconductor content to more than $1,500 in the next decade.
One of the principle drivers is the increase in electronics systems used for autonomous capabilities, electric/hybrid powertrains, and always-on connectivity incorporated into the cars we drive.
At the same time, as consumers, we are expecting and already experiencing a host of new mobility options. The decision is no longer about merely owning a car or not, new car-sharing schemes have introduced viable new options. Multimodal transport concepts promise a seamless process of getting from A to B. Despite all climate debates, our mobility requests will increase – it is predicted that we will drive more kilometers in the upcoming years, this means that more people will drive and drive longer distances. (source: PWC)
Increased mobility introduces a landscape of risk and environmental impact, all of which semiconductor companies need to think of when architecting new solutions. How will pollution be addressed, are traffic management systems "smart" enough to make traffic jams a thing of the past? How can road fatalities be reduced even further, and can cars learn from other vehicles in the way accidents occurred and adapt with the appropriate evasive?
With increasing connectivity cars become more vulnerable to cybersecurity attacks…. These are just some of the questions that automotive design engineers are juggling with as they design and deploy increasingly complex technologies with the vehicle.
Your Car Is The Most Complex IoT Device
When comparing the basic enabling technologies of smart devices – be it a mowing robot, a welding machine or a smart watch – one finds that they are fundamentally the same. Just like any IoT device, the car has to sense its environment, connect to the outside world, process data, and take safe actions.
Scalability of system solutions and know-how transfer between industries has become a major success factor allowing for risk-free research and development. NXP as a global leader in IoT, Industry 4.0 and automotive – works at the intersection of these worlds and is uniquely positioned to make smart devices sense, think, connect, and act safely and securely.
The level of automation present in modern vehicles has increased the significance of software in automotive systems. Many autonomous and assist functions use artificial neural networks and deep machine learning techniques.
Just imagine: Today, modern cars have more lines of software code than a passenger aircraft. Accordingly, carmakers are looking for ways to simplify their compute architecture so that they can bring rich in-vehicle experiences and automated driving functions to market as fast as possible. They ask semiconductor companies to deliver a unified computing architecture of high-performance microcontrollers and processors with application-specific acceleration and interfaces – all supported by an identical software environment across application platforms. The idea is to allow developers to reuse costly research and reduce the development risks.
Connected, autonomous cars require not only
a reliable and robust platform, but they
also need to be as secure as possible against hacking and data theft.
Harder to hack or steal
Connected, autonomous cars require not only a reliable and robust platform, but they also need to be as secure as possible against hacking and data theft. Maintaining security of communication and service is highly relevant for any IoT application but is especially so when you consider the consequences of failure when traveling at speed on a busy interstate during the morning commute. Contrary to the reset capabilities of your smartphone, it is not ideal to reboot an automotive application or to wait for the system to update itself while in transit. Securing the car requires a holistic approach with various layers of protection, just as you would protect your home and property – from the house door lock to the individual rooms or your safe for your most valuable assets and secrets. In cars, semiconductor suppliers secure the interfaces, the gateway, the networks and the processing – and lock and unlock the doors.
For convenient car access, NXP has just announced a new type of connectivity technology – ultra-wideband (UWB). UWB has the huge potential to securely integrate the entire keyring that you carry in your pocket into your mobile phone or smart watch, making it extremely attractive for next gen car access solutions. The NXP solution installed on the car and in the smart access device can solve a major industry problem: car theft via so-called relay station attacks. How? Unlike with traditional car keys or smartphones where signal strength is used, UWB measures the signal time of flight between the access device and the UWB anchor in the car – a realtime, precise distance calculation. So, simply relaying the signal won't work for thieves anymore. What's even more exciting is that this same technology can turn a smartphone into a secure key fob. UWB is an extremely low power wireless communication protocol that provides a secure link between the smartphone and the vehicle. Using this approach, vehicle users can open and start their car even though the smartphone key fob is in their pocket, truly handsfree. And one thing is for sure: UWB will offer ultrawide possibilities far beyond car access.
Ultra-wideband (UWB) is a low power wireless communication protocol that
provides a secure link between the
smartphone and the vehicle.
Technology Underpins Mobility
Every automotive electronics system relies on semiconductors. Whether microprocessors for providing the raw compute horsepower to run machine learning algorithms, radar for road safety, or controls used for managing the battery cells in electric vehicles, NXP provides a solution for every requirement. Its portfolio addresses all domains of the vehicle architecture – from driver replacement, connectivity, powertrain and vehicle dynamics, body and comfort or passenger experience. Security by design forms an intrinsic part of NXP solutions.
Driver Assistance towards Autonomy – The safety and performance of autonomous and driver assistance functions depend primarily on one thing: the accuracy of the sensors to perceive their surroundings and to coordinate actions necessary to maintain the safety of all road users and pedestrians. Among the sensors available today, i.e. lidar, camera, and ultrasonic, it is radar that is set to play the central role in the future. Unlike camera and laser scanners, radar works reliably in all weather conditions.
NXP is the global market leader in radar, combining highly integrated radar microcontrollers and high-performance 77 GHz radar transceivers in a small footprint. Outputs from multiple sensors can be combined, or "fused" together with one of NXP's computing units, the BlueBox, so that an accurate digital representation of the vehicle's current environment is achieved – at low power consumption and according to automotive safety standards. In this way, pedestrian detection, lane departure warning, collision warning and avoidance, and traffic sign detection features can be provisioned.
Secure Connectivity – NXP has continued to build its portfolio in secure connectivity. In 2019 alone, the company 1. acquired Marvell's Bluetooth and WiFi business, 2. announced a powerful ultra-wideband solution for automotive, 3. kicked off the world's largest commercial rollout of secure V2X communication on real roads with Volkswagen, and 4. announced its secure edge-to-cloud device, the new vehicle network processor for gateways, the S32G microprocessor.
Enabling Electrical and Hybrid Vehicles – Electric vehicles (EVs) are quickly gaining in popularity. The market today combines fully electric options as well as differing levels of hybridization. EVs rely on large numbers of high capacity batteries to provide electric motors with the direct current required to move the vehicle. EV batteries also serve as electric energy storage. The battery itself uses many Li-Ion cells that are managed by a battery management system (BMS). The BMS ensures the safety, correct charge and ageing of the batteries. Maintaining the batteries in optimal health and managing the efficient use of their energy is essential to ensure they can deliver the maximum range stated for the vehicle.
Power conversion and inverter circuitry are employed in the electric powertrain to create and control the high voltages required by the motor. The power semiconductors used have to operate in a particularly harsh electrical environment where large voltage swings and current transients are the norm. And NXP's EV portfolio is not limited to vehicles, it also addresses the EV charging infrastructure. Outside of the vehicle, charging station technology needs to be robust and allow for seamless switching between voltages to power electric vehicles. NXP provides high-quality, highly safe, ISO 26262 process compliant, highly secure components for all aspects of the powertrain and battery management solutions. NXP's IoT divisions supply NFC, cybersecurity technology, and microcontrollers for secure charging and tap-to-pay services.
With its leading system solutions for safe and secure mobility, NXP is driving the transformation to zero accidents, zero emissions, and zero time wasted in accidents.
Electric vehicles (EVs) are quickly gaining
in popularity. Efficient Battery Management is key to this success.
Source 
[1.] Based on 2018 Auto TAM1. Based on 2018 Auto TAM
[2.] Auto RF/DSP includes Secure Car Access, Radio/Audio, V2X and Radar Transceivers
[3.] Source: Strategy Analytics, IHS Markit, NXP
* Strategy Analystics; IHS; Evercore; ABI Research; NXP 2018