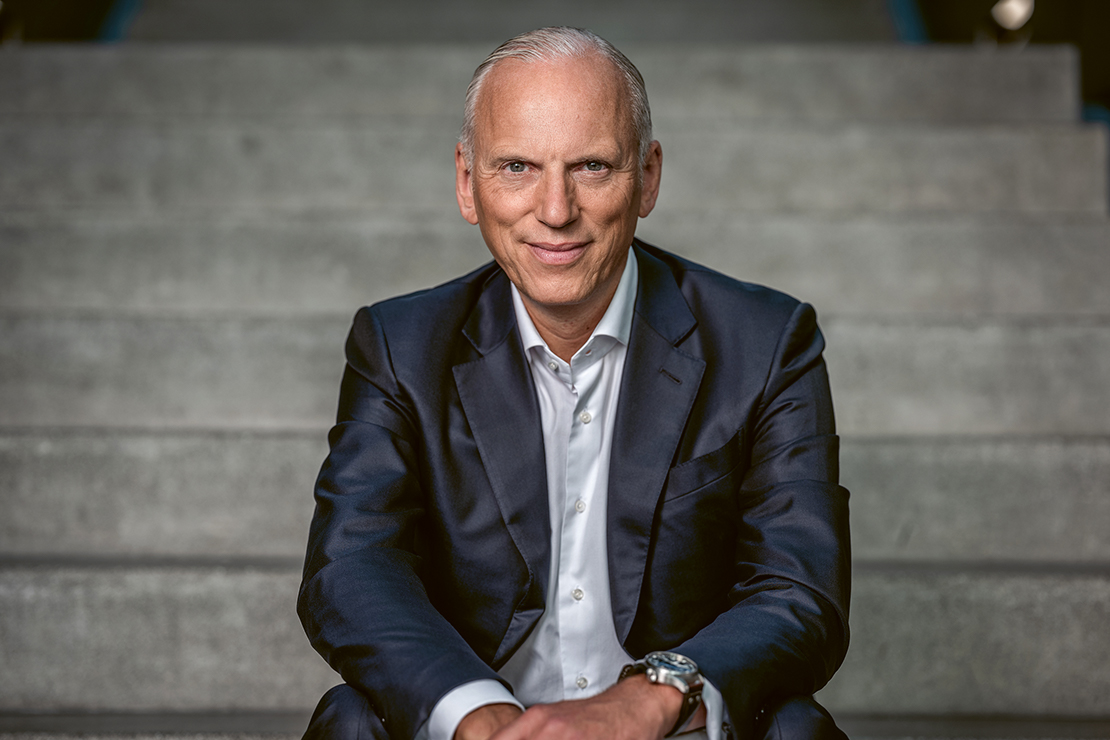 Im Dialog mit Pieter Nota
Member of the Board of Management,
Customer, Brands, Sales, BMW AG
Since joining the BMW Group three years ago, Pieter Nota has set a new benchmark in customer centricity and the optimal use of digital technology throughout the customer journey. Born in the Netherlands, the 56-year-old heads the division Customer, Brands and Sales within the Board of Management of BMW AG. Right in the middle of a major transformation of the whole automotive industry he is steering the sales and marketing division into a new era of connectivity and electro mobility.
Pieter, you joined the BMW Group at a time in which customers no longer only choose their car according to its driving performance, but also how well it allows them to integrate their digital life into their vehicle. Do they nowadays also want to order their dream car with just a mouse click like they purchase almost everything else online?
We certainly see a change in customer expectation and behaviour. Apart from the driving experience, today, connectivity features are just as important. We cater for this customer demand with our latest product range and this year with our all new BMW i4 and the technological spearhead BMW iX we will bring two highly innovative all electric vehicles to market. They will certainly break new ground when it comes to the connectivity capabilities of the vehicle, but we will also introduce these new, all-electric models with a forward-looking sales approach. Today our customers expect a more tailor-made offer of products and services when purchasing their vehicle of choice. The concept of premium will in future be increasingly defined not only by the substance of our products, but also through a differentiated and personalised customer approach. I am convinced that if we combine our premium products with a first-class customer experience, we will be unbeatable.
As consumers, we are accustomed to receiving individual, tailor-made offers from consumer brands and online sales portals in order to attract us to their site and products we have shown prior interest in. What can BMW and MINI customers expect from you in future?
Our new Sales and Marketing process will take customer centricity to a new level. Our aim clearly is to provide the best premium customer experience within the automotive industry. In order to achieve this, together with our retail partners we will focus on key contact points in the interaction with our customers. We are targeting not only the sales process itself, but also the driving experience in order to maximise the customer's satisfaction with our products and services. In the future, we will provide our customers with individualised offers inclusive of all relevant products and services exactly at the right time when they are thinking about changing their car.
Digitalisation plays an important role in this. Today we are much better placed to anticipate the future interest of our customers from a more sophisticated analysis of their purchasing history. As a result, we are much more adept at being able to pinpoint their future vehicle with the most relevant offer.
A car however is still a purchase you usually make for a longer timeframe. How do you keep it "fresh" and up to date as technology evolves further in the lifecycle of the vehicle? I am thinking of the software- and feature-updates we are used to from our smart phones and tablets?
This process of updating software and technology is an integral feature of our cars. In the past, the driver had to come to a dealership or garage for his or her car to receive an update. Today such updates can predominantly be activated remotely. In addition to these wireless software upgrades, we will expand our offer of so called "Experience Oriented Feature Upgrades".
In other words, we will offer customers additional functions for flexible and time-limited usage which allows them to continuously personalise their vehicle according to their changing mobility demands.
I am convinced that if we combine our premium products with a first-class customer experience, we
will be unbeatable.
This sounds a little bit like enhancing the functionality of a smartphone?
Yes, you might think of it like that.
Let me give you an example of what I mean: While driving at sub-zero temperatures, our voice assistant can in future invite the customer to experience for a test period free of charge the steering wheel heating system, which he or she may not have ordered at the time of purchase. If the customer subsequently wishes to continue using this vehicle function, even if only for a limited period – they may then pay for this upgrade and continue to use it. This allows us, on the one hand, to build on customer loyalty and on the other hand, establish additional business models. Data analysis from our respective sales pilots demonstrate a great deal of customer interest in these additional vehicle functions and services.
Talking about changing mobility demands. You just mentioned two new all electric vehicles to enter the market this year. What can we expect from BMW's electric product range? After all there was seemingly a long gap between the BMW i3 and these new models to come?
I have to object! With the BMW i3 we started our journey to sustainable mobility in 2013 and this car is a great success story. Over the past years we have continued to electrify almost our entire product range with plug-in-hybrid vehicles. And now, as demand for electric vehicles starts to significantly pick up, we brought the MINI Electric to market at the start of last year which was followed by the all-electric BMW iX3. The BMW X3 by the way is the first model which perfectly showcases what we mean with Power of Choice: our customers can choose from four different drives: all electric or hybrid as well as petrol and diesel combustion engines. Now this year our new technological flagship, the BMW iX and our sporty BMW i4 will enter the market which will in the coming years be followed by a fully electric 7 Series, X1 and 5 Series. These models will also be offered with four different drive technologies to match the different mobility needs of our customers worldwide. By the end of this decade, we expect that we will have delivered more than seven million electrified vehicles to customers – two thirds being fully electric.
Why do you describe the BMW iX as a technological spearhead?
The BMW iX represents a completely new generation of vehicles. It sets a new benchmark with regard to technologies, such as connectivity with 5G capability, electromobility and automated driving as well as design and user experience. With 370 kilowatts it is a BMW through and through and at the same time, it will surprise you with its revolutionary features and a range of 600 kilometers to the next charge.
As an all-electric Sports Activity Vehicle, it has a cutting edge yet minimalist design which can also be experienced in the interior of the vehicle. Behind its powerful appearance lies a lot of high tech. One symbol of this is the new BMW grille which contains cameras, radar and several other sensors that allow it to enable various digital functions in addition to an innovatory self-healing effect. As far as the driver is concerned, the technology remains in the background. Its functions are only apparent when they are being used – we call this Shy tech. Also, this vehicle is sustainably designed from the start to finish: from its electric engine, produced sustainably without critical materials such as rare earths through to the battery cells and high-voltage batteries with 100% regenerative power.
That brings me to an interesting contrast – sustainability and the automotive industry. That is not what one naturally mentions in the same sentence. However, the BMW Group aspires to not only be the most successful, but also the most sustainable premium company for individual mobility. How do you intend to achieve this?
We are firmly convinced that mobility must be sustainable in order to represent a truly attractive solution. For us, premium mobility must go hand in hand with sustainability. The fight against climate change and how we use resources will decide the future of our society – and with that of course also the future of the BMW Group. As a premium car company, it is therefore our ambition to lead the way in sustainability and that is why we are taking responsibility in making these issues central to our future strategic direction. We have anchored this strategic approach to sustainability in all divisions from administration, purchasing, development and production to sales. With this "from the ground up" approach we are taking sustainability to the next level.
Pieter, please allow me at the end one personal question: what drives you at BMW, what makes you proud to head the company's Sales and Marketing division?
First and foremost, it is the very passionate and driven people who work in all areas of the BMW Group and inspire me every day with their energy and creativity. I am impressed with the way they drive innovation in order to further sustainability and help solve society's problems. As the BMW Group, we want to be part of the solution, not the problem. It is of course also our unique products and the multifaceted interpretation of the ultimate driving machine, which makes me proud. Talking bookends here: for me it is just as satisfying to get maximum efficiency out of one of our plug-in-hybrid vehicles as it is to experience the sheer power of a Competition model.