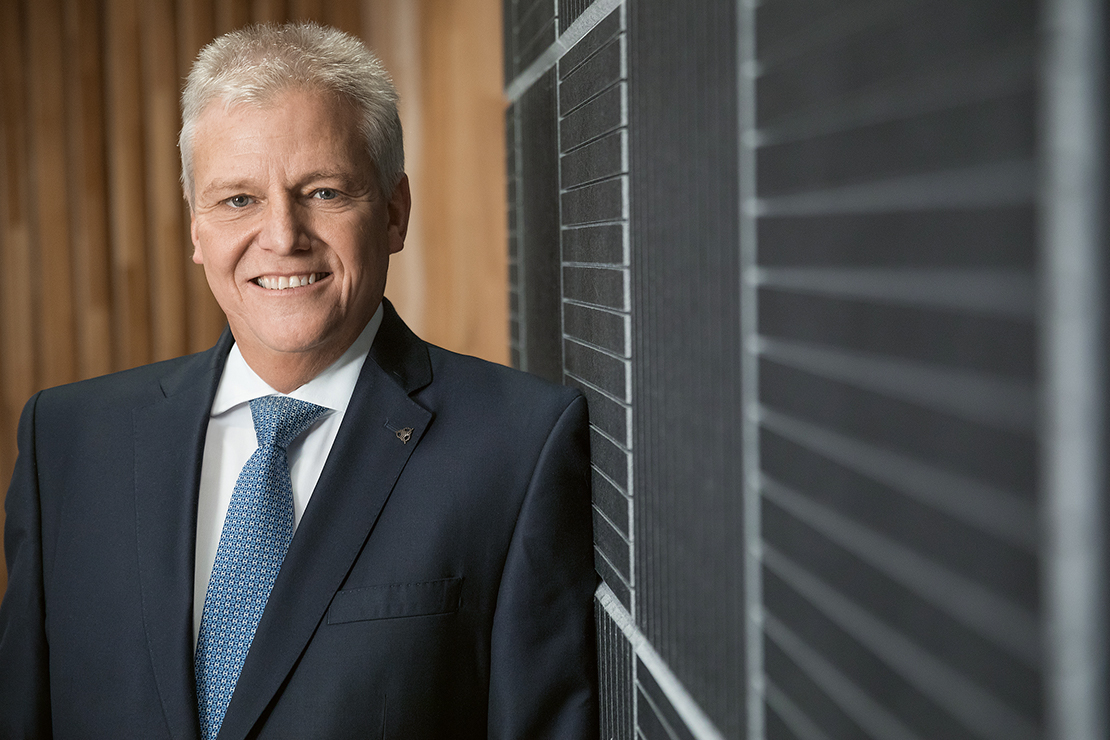 Im Dialog mit Michael Mauser
President and Chief Executive Officer, HARMAN International
Every experience starts with exploration. For decades now, HARMAN's mission to create pioneering connected solutions in the car, at home, across venues and on the go has been paving the way for new and improved consumer experiences.
In April 2020, Michael Mauser was chosen as Chief Executive Officer to lead HARMAN as its innovative products and solutions continue to connect consumers' lives in new ways, expand their worlds, and introduce endless possibilities.
HARMAN has a rich audio legacy – but the company has evolved to become a global connected technologies leader. How would you define HARMAN today?
HARMAN designs and engineers connected products and solutions for automakers, consumers, and enterprises worldwide. We're focused on solutions that enhance consumer experiences and simplify how people interact with technology, whether that's a true wireless headphone or the infotainment system in their vehicle.
How has HARMAN been a driving force in enabling personalized mobility?
HARMAN has long believed that experiences are at the heart of advancing smart mobility. Leveraging technologies like 5G, IoT, cloud, and cybersecurity to power the connected car, we provide Smart, Seamless, Secure, and Scalable experiences for drivers and passengers.
For example, we're delivering compromise-free in-car infrastructure through our Digital Cockpit and Telematics products, augmented by our HARMAN Ignite connected vehicle platform that allows OEMs to manage an in-vehicle App Store to connect consumers to their favorite content, and improve their relationship with the carmaker. Our systems are future-proof, thanks to our Over-The-Air (OTA) update technology, which allows OEMs to upgrade entertainment and communications features anytime with the touch of a button. And with our HARMAN SHIELD offering, we're delivering a scalable, end-to-end cybersecurity solution to protect cars today and in the future.
The mobility industry is poised for a major transformation in the next decade. How will HARMAN play a role in continuing to lead the mobility industry's transformation?
The rapid convergence of technology and mobility solutions creates a significant opportunity to identify unmet consumer needs, connect automobiles to the world around them, make cities and streets safer, and accelerate the industry's shift from features to complete experiences that enhance productivity, entertainment and satisfaction. This means shifting from a focus on "miles driven", and instead to delivering "experiences per mile" or "EPM".
HARMAN is investing heavily in consumer insights to reimagine superior consumer experiences for cars of the future. We've learned consumers want their car to be more like a "third living space" outside of their home. Some people want to take calls from the car, or work from the car, and some just want a silent zone. Whatever their needs are, consumers identify the car as more than transportation and that is an opportunity for us.
HARMAN has integrated this consumer-led focus in developing our solutions,
including those for electrified vehicles, such as EV Plus+ Solutions that leverage high-efficiency acoustic technologies and cloud-based innovation to provide a powerful premium car audio system without impacting vehicle range for an uncompromised listening and driving experience for EV consumers.
Whatever their needs are, consumers have identified the car as a potential third living space and that is an opportunity for us.
So what does the future of smart mobility centered on consumer experiences look like?
The answer is in the unique way we can design and build an entire EPM solution by leveraging our suite of technologies. We can identify real consumer driven opportunities for our automaker customers, and then design and build a custom solution from our core technologies and industry partners. This heightens customer satisfaction and allows each automaker to truly personalize their offerings.
To say this simply, we take consumer insights and connect them to technology to create moments of magic for drivers and passengers. We call these moments HARMAN ExP, our term for a highly integrated automotive experience that combines our most advanced capabilities to elevate the consumer experience to unprecedented levels.
With the automobile becoming central to the consumer's digital lifestyle, how is HARMAN helping facilitate this transition?
At HARMAN, we don't believe that time spent in the car should be time that is forfeited. We're perfecting the cutting-
edge automotive technologies in place today to help consumers stay connected, productive, and engaged to their lifestyle while in the car and to make time in the car time well spent. We are leading the industry in connected car and car entertainment solutions, from our HARMAN ExP Integrated Solutions Suite and Digital Cockpit, to Car Audio and Advanced Driver Assist Solutions.
Which technologies will have the most impact on the future of consumer experiences?
It won't be a single technology but a combination of several advanced solutions that will shape tomorrow's mobility experiences for consumers in a meaningful way. "Smart" companies that rely on this strategy are ideally setup to be the most impactful forces driving the future of transportation. Unlike our competition, HARMAN has the unique capability to combine and integrate core products such as Digital Cockpit, Telematics, Car Audio, Cloud, and ADAS, among others to fulfill EPM opportunities.
Knowing that experience-focused innovation will come from inside the vehicle, we are doubling down on forward-looking technologies that boost enjoyment, entertainment and productivity in the car while making the act of driving safer. Imagine if the interior of your car was transformed to replicate a live concert venue? We want to bring our technology expertise together with consumer behavior insights and deliver an experience that brings the sights, sounds, energy and action of a live concert performance right inside your car. But it can go beyond just the livestream experience – we could allow you to directly interact with the venue, artist and the music – all from the comfort and safety of your own vehicle. This is just one example of how in-car experience can be reimagined through a purpose-built combination of technologies and capabilities.
As we prepare for the arrival of 5G across the globe, how is it poised to impact smart mobility?
The availability of 5G everywhere will facilitate a brand-new dimension of connectivity. Recognizing the remarkable potential of 5G on smart mobility, we created our own Vehicle-to-Pedestrian (V2P) 5G solution that leverages V2X technology to forewarn drivers and pedestrians about potential safety hazards. This will allow pedestrians to receive safety alerts about vehicles in their area via their smartwatch or mobile phone. As 5G technologies and networks mature, C-V2X networks will unlock new opportunities for vehicles to communicate with their surroundings, including other vehicles, road infrastructure, control systems, and pedestrians – strengthening the foundation of tomorrow's smart cities.
To best equip these 5G-backed smart cities, HARMAN has also developed a comprehensive suite of Smart City solutions like sensors, 5G IoT Gateway solutions, Smart Building technologies, LTE/5G-enabled public spaces, and Smart Traffic and Smart Utilities offerings to create the critical smart city infrastructure that enhances residents' day-to-day experiences, contributes towards their sustainability goals, improves safety standards, and ensures a more seamless digital lifestyle.
5G is also a key ingredient in advancing our HARMAN EnVision cloud-based platform that will revolutionize the relationship between the in-car hardware platforms and the cloud-based solutions that complement them. We will leverage 5G connectivity along with cloud and edge networks to minimize the costly hardware architectures inside in the car and maximize the unlimited processing and storage power of the cloud – helping HARMAN stay true to its promise of delivering technologies that are future-proof, hyper-personalized, and upgradeable.
How important are strategic collaborations and partnerships in shaping the future of the automotive industry?
The innovation journey can be slow, and going at it alone poses its own risks. Collaboration increases the speed at which we can develop and introduce new technologies to bring powerful experiences to life across industries, geographies, and markets.
Bringing this vision to reality demands industry leadership and collaboration. That is why HARMAN co-founded the Experiences Per Mile Advisory Council, a group of top automakers, car technology leaders and mobility service providers dedicated to bridging smart technologies and consumer trends to reshape the in-car experience. Together with business leaders from Samsung, Ford, Hyundai, FCA, GM, Amazon, Salesforce – and many more OEMs, Tier-1 supplies, and mobility service providers – the EPM Advisory Council is uncovering best practices and fostering cross-industry innovation with a focus on in-vehicle experience.
It is my mission to lead HARMAN as it blazes new trails in the future of connected technologies with solutions that explore new opportunities and create better experiences for automakers and consumers. Together, we at HARMAN believe we can challenge the status quo and redefine the mobility industry's transformation with experience at its core.