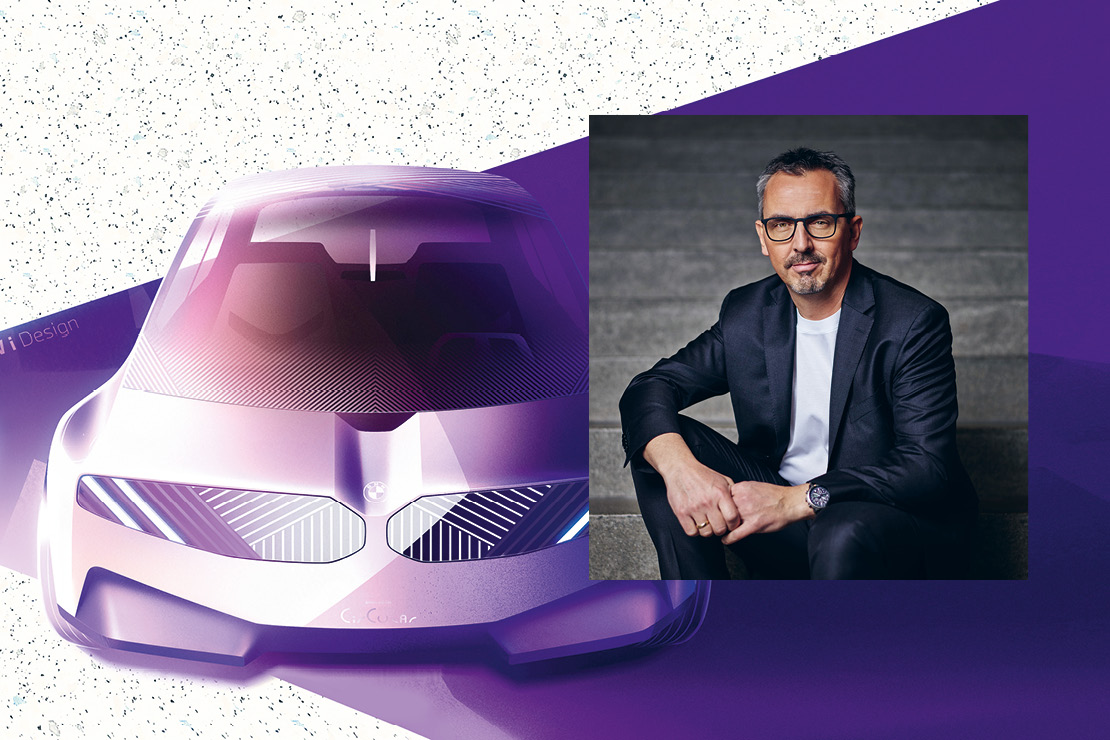 Im Dialog mit Dr Joachim Post
Board of Management member, Purchasing and Supplier Network, BMW Group
The coronavirus pandemic, war in Ukraine, regional natural disasters – and, above all else, climate change. Despite being in a phase in which companies are having to respond to global crises, the BMW Group is realising its goal of fundamentally transforming itself and focusing on sustainability: from the extraction of resources, through production, to recycling.
The ramp-up of e-mobility makes reducing CO2 hugely important – especially in the supply chain. Leading the way on this is Dr Joachim Post, who took over as the Board of Management member responsible for Purchasing and Supplier Network on 1 Jan. 2022.
The 52-year-old joined the BMW Group in 2002 and knows the company and its products from top to bottom. As head of vehicle strategy, Post was instrumental in developing concepts for future model generations and has therefore been involved with sustainability issues for a long time.
Dr Post, you became Board of Management member for Purchasing and Supplier Network at a challenging time. Despite feeling the impact of global crises, the BMW Group has set itself ambitious sustainability goals. How are you tackling the major challenges?
The profound transformation of the automotive industry and our company is certainly a challenge – but the BMW Group is on the right track. We aim to lead the transformation, shape the future of sustainable mobility and contribute to a responsible, prosperous and resilient economy. Given the geopolitical changes we face, we also want to optimise our supply chain, based on the »local for local« principle.
You'll have to explain that.
Well, our supply chain is a very complex structure – more of an intricate network than a simple chain. We have to actively manage this structure in order to meet geopolitical and logistics constraints, but also to fulfil our environmental and social responsibility. The aim is for our global network with its major production locations in Europe, China and the US to be supplied from within that region, wherever possible. This makes our supply more robust and reduces our carbon footprint. Thanks to our flexible production systems, we are able to respond much more quickly than in the past and handle many of the issues well – whether it is »just« a ship stuck in the Suez Canal or a river with not enough water.
That happened more often during last year's very dry summer – which brings us to the issue of climate and sustainability …
Sustainability is the focal point of our everyday actions, but environmental and social aspects are not ends in themselves – they are developed from our strategy to secure our future as a company. We take a 360-degree approach that considers the entire value chain, based on a clear strategy. It is important to balance environmental, social and business aspects. We have set ourselves ambitious targets that we aim to achieve not on our own, but in close collaboration with our partners.
You maintain this cooperation, because the BMW Group needs stable supplier relationships and depends on security of supply. Is that right?
We try to come up with joint solutions. Take our bold vision of the circular economy, aimed at conserving natural resources and further reducing CO2 emissions. We want to recycle materials from end-of-life vehicles the best way we can. Our new vehicles already contain an average of up to 30 percent secondary raw materials, and we aim to systematically increase this number. We presented our vision of sustainable, resource-efficient automotive manufacturing two years ago with the BMW i Vision Circular at IAA MOBILITY.
Our sustainability requirements are built into every contract we award: Our guidelines for CO2 emissions and our standards for resource efficiency and the use of secondary material are real challenges. We actively monitor compliance with our environmental and social standards. That is why, for example, we also offer a comprehensive training programme on sustainability in the supply chain that is geared towards in-house buyers, process partners and suppliers.
We already use aluminium produced using solar power. The Gen 6 battery cells for our latest vehicle generation provide another good example of this.
You mentioned three levers you intend to use to reach this goal: reducing CO2 emissions, environmental and social standards, and resource efficiency and the circular economy. Let's take them one by one: What about CO2?
We aim to reduce CO2 emissions throughout the entire lifecycle, from resource extraction to recycling, by at least 40 percent per vehicle compared to 2019. On this basis, we have also committed to ambitious goals for the supply chain, because the ramp-up of e-mobility will initially lead to an increase in CO2 emissions per vehicle in the supply chain – primarily due to the energy-intensive production of batteries. We are offsetting this increase and targeting a significant reduction on top.
A particular focus is also on highly energy-intensive materials, like aluminium and steel. From 2026 onwards, more than a third of the steel supplied to our production network will be CO2-reduced. We already use aluminium produced using solar power. The Gen 6 battery cells for our latest vehicle generation provide another good example of this. We reached an agreement with our suppliers that they will only use green power for production – since green power is one of the biggest levers for reducing CO2.
As the Board of Management member for Purchasing, the new Supply Chain Due Diligence Act is probably keeping you pretty busy. Is that right?
We are naturally focusing our attention on this law, because it defines the framework for human rights due diligence in our supplier network. The main challenge is creating traceability and transparency – but, in terms of content, we have been doing well in this area for many years. We already built due diligence into our tendering processes back in 2014. The suppliers we work with directly are contractually obliged to implement preventive measures to minimise environmental and human rights risks. For example, this means completing our training courses, establishing and implementing management systems to promote occupational safety and protect the environment, and requiring these same standards from subcontractors.
We also monitor our suppliers' compliance with these requirements on an ongoing basis, using risk filters, media analyses, sustainability questionnaires and audits. We take immediate action in cases of possible non-compliance – up to and including terminating business relations. The BMW Group can be notified anonymously, by phone or email, or through our Compliance Ombudsperson. Our goal is to address all substantiated reports of environmental or human rights violations by agreeing on corrective measures.
How are you responding to the challenges in creating the traceability and transparency required to meet due diligence requirements?
With Catena-X, we are currently creating a cross-industry platform for digitalisation of the value chain. It enables safe, global cross-company and standardised exchange of information and data – in compliance with the antitrust framework. That is why, to ensure traceability and transparency, participation in Catena-X will be a requirement for our suppliers who wish to bid for future contracts.
Is a digital platform like Catena-X enough for raw materials with critical mining conditions such as cobalt or lithium?
There are a lot of things we want to do with Catena-X in the future, but we still have a long way to go. For critical raw materials, we are not just relying on the platform alone. For our new Gen 6 battery generation, we are expanding our initiatives for responsible extraction of raw materials.
Let me give you an example: Cobalt and lithium come from certified mines, regardless of whether we procure the materials ourselves and make them available to our suppliers or whether our battery cell suppliers source them directly. Since the start of this year, we have been part of a scientific study of responsible lithium mining in South America. But reuse is much better than extraction of primary raw materials. That's why our Gen 6 battery cell suppliers for lithium, cobalt and nickel are also required to use secondary material, i.e. raw materials that are already in the cycle.
The circular economy is another declared aim of the BMW Group. Is this mainly about consuming fewer resources?
Conserving resources is a very important aspect, as is reducing CO2 emissions. We are reducing our resource consumption not just by using secondary material, but also through our innovations. A good example of this is our matt paint, which is made from biomass instead of crude oil. We use it at all our European plants. This innovative process does not require fossil resources and lowers CO2 emissions from paint production by 40 percent. We are the first manufacturer worldwide to use this paint on such a scale.
Sometimes, it starts with the little things: As someone who is passionate about woodworking as a hobby, I built a new garden bench from an old tabletop. You don't need to cut down a tree every time.
So that's another way you are eliminating crude oil as a resource – but bio-waste is not classic secondary material. What about recycled materials?
Recycled materials often have a significantly lower carbon footprint. For aluminium, it's around 80 percent less; for steel or thermoplastics, 50 to 80 percent. That's why we want to continue to increase the percentage of secondary raw materials per vehicle to up to 50 percent going forward.
That's a lot. Where will you incorporate this amount of material? And how does secondary material fit the BMW Group's premium standards?
Aluminium, for instance, is very easy to recycle – so we can melt down old wheels and use the casting for new ones. MINI will be a trailblazer on this: The new MINI Cooper SE Convertible will be the first production model worldwide to roll off the production line on light-alloy wheels made from 100 percent secondary aluminium. High-voltage batteries are another example. In China, we just established a closed loop for the reuse of critical raw materials from high-voltage batteries.
Our Chinese joint venture, BBA, is working with a local recycler to realise this. It dismantles retired batteries and recovers a high percentage of the raw materials for production of new battery cells. In both cases, the secondary material is of premium quality, with a high perceived value for our customers.
I'd like to finish with a personal question: What is your favourite material to reuse?
I don't have a favourite material. I think the idea of reuse is important for every product and every raw material and there are many possibilities. Sometimes, it starts with the little things: As someone who is passionate about woodworking as a hobby, I built a new garden bench from an old tabletop. You don't need to cut down a tree every time.