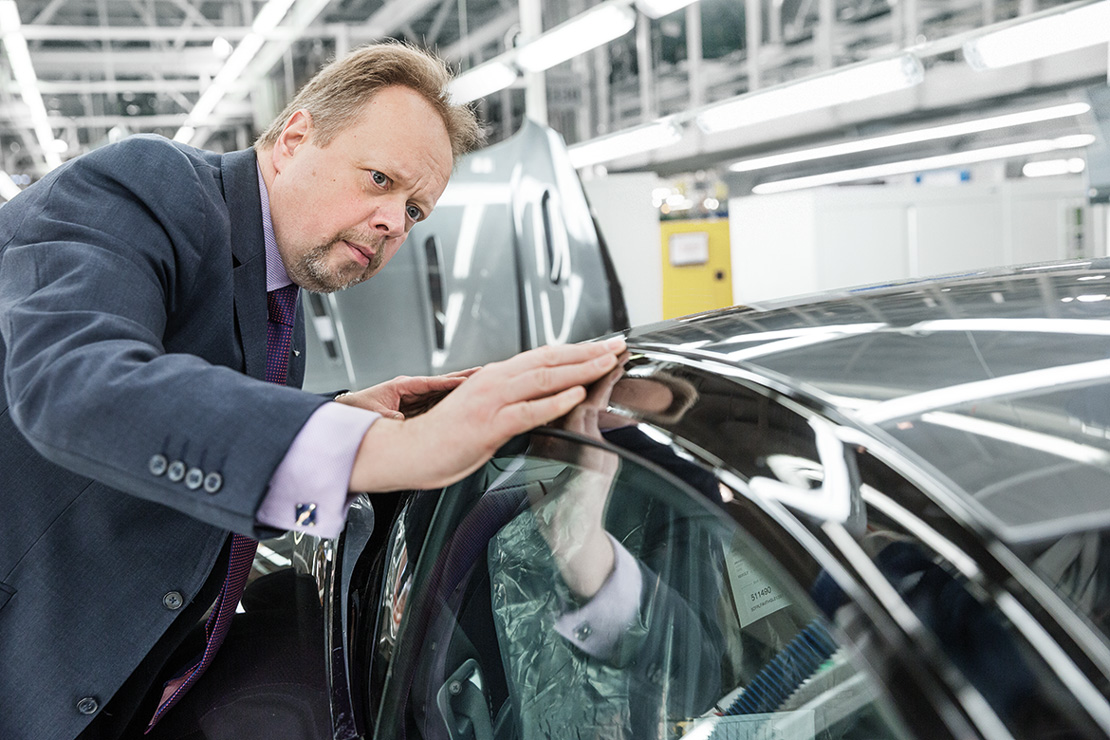 Im Dialog mit Dr Andy Palmer
CEO, Aston Martin Lagonda Limited
Dr Palmer, what is Aston Martin all about? How is the Aston Martin brand position perceived and
how does it affect your current product launches?
It's one thing to bring new cars to market – and we're doing that – but altogether another thing to explain why they are inherently different from a Ferrari or a Rolls-Royce. We're clearly not Ferrari, chasing the last 0.01 of a second. We're clearly not Rolls-Royce, looking to make very, very comfortable and luxurious big cars. And we're equally not the average of the two. Of course we make very fast and very luxurious cars but there is nothing average about them. I'd describe it as more of a triangle, and our raison d'être is very clearly our love of beauty.
Everything we do is driven by the aspiration to make the most beautiful cars in the world and we need to teach the world that message. We need to demonstrate it not just by bringing beautiful cars to market, but also by explaining why our cars are beautiful: beautiful proportions, beautiful design, beautifully authentic material, beautifully British, beautifully handmade, beautiful sound, and beautiful to touch. Everything about them has to be beautiful and we need to educate our potential clients that is why they should be proud of having an Aston Martin in their garage, and that's what makes us different to a Ferrari.
For the love of beauty: A second century plan to promote British beauty and brand luxury
You recently launched the Aston Martin DB11 under the so-called 'Second Century' plan. Can you tell us a bit more about it?
A new chapter in Aston Martin's history began at the 86th Interna- tional Geneva Motor Show with the unveiling of the DB11. The first product launched under the com- pany's 'Second Century' plan, DB11 is the bold new figurehead of the illustrious 'DB' bloodline and an authentic, dynamic sporting GT in the finest Aston Martin tradition, Aston Martin announced in a press release in Geneva back in March 2016. The DB11 showcases a fresh and distinctive design language, pioneering aerodynamics and is powered by a potent new in-house designed 5.2-litre twin-turbocharged V12 engine. Built upon a new lighter, stronger, and more space efficient bonded aluminium structure, DB11 is the most powerful, most efficient and most dynamically gifted DB mod- el in Aston Martin's history. As such, it is the most important new Aston Martin since the introduction of the DB9 in 2003. We aspire to make the most beautiful cars in the world.
DB11 is the absolute embodiment of what an Aston Martin should be and we have worked tirelessly to ensure that DB11 combines both exceptional design with the latest technology throughout. A brand new bonded aluminium platform, clever aerody- namics, a new dazzling twin-turbo V12 and class-leading infotainment systems are just a few aspects which make this the sports car that will proudly spearhead Aston Martin's Second Century plan.
Will this car attract a new type of customer? Have you observed new trends that apply to your company?
Historically, I guess we've sold mainly to male baby-boomers – the 50 – 60 year-old range – but a generation change is coming and is marked by the move from baby-boomers to Generation X and ultimately, Generation Y. As a luxury brand, I'm not suggesting we're going to roll out an autonomous car as quickly as possible, but some of those trends are relevant to us; EV in particular. A car can be beautifully silent as long as it's also beautifully powerful. I think EV is an obvious place we should be and we will be in 2018 with the Rapide EV. But we probably won't be rushing to embrace particular market trends like autonomous driving, because our customers – all of them – choose an Aston Martin because they love driving! That said, there are technologies within the autonomy suite – for example, automatic park- ing or valet parking – which could be extremely interesting to our customers. So I would say we pick and choose the technologies that we bring to market in the context of an environment which is all about car shares, electric or zero emissions, connected cars, and autonomy.
Aston Martin invests a great deal in its model range and production technologies. Can you explain 'beyond lean'?
You're seeing enormous investment in new cars at the moment, which also provokes new technologies; and our particular skill, which I think is industry-leading, is in the area of bonded aluminium. We don't weld our cars together, we glue them together, add the use of carbon fibre into this all-encompassing, market- leading industrial design, and that's our particular niche of advanced technology. I would then go one step further and say that the way we manufacture is also industry-leading through the actual use of the technology. I would argue that once you come out of the body shop with those bonded tubs, and you move through the paint shop, while it is very labour intensive because we hand-build the cars from there on in, the fact that you're able to make every car bespoke to a customer makes us not just lean, but beyond lean! At both St Athan and Gaydon, we will continue investment heavily in this 'beyond lean' technology, and the new factory in particular will pro- duce our first SUV, the DBX, and ultimately also the Lagonda brand which will be brought to market within the Second Century plan. This doesn't just represent major facility upgrades but actually a complete new facility over in Wales, and it will be embracing these 'beyond lean' technologies and continuing our dedication – even with the SUV – to the bonding of aluminium.
So, these investments will no doubt involve increasing your workforce. Do you recruit globally?
Our factory is very much centred on crafts and technical skills, and a skill-set that barely exists these days, which is the ability to hand-make and hand-craft cars. We have to hire our own apprentices and train them in the art of crafting leather, or sewing hides. More than any other car com- pany, we rely upon human skills, because we manufacture something that can't be replicated by artificial intelligence. As you go out into the regions, you've got to recruit people that are both empathetic and know about the brand and why its stands 'for the love of beauty', making them brand ambassadors that basically communicate that message. They're the disciples that deliver that important message.
Our factory is very much centred on crafts and technical skills, and a skill-set that barely exists these days, which is the ability to handmake and handcraft cars.
What can we expect from Aston Martin in the future?
Over the next five years, we'll have pretty much completed the Second Century plan, and what you'll see from this is a brand as healthy as it's ever been, yet also better understood across all regions. More impor- tantly, you'll see the development of a fresh vehicle portfolio of seven cars, and this will cover the full range.
GT sports cars, mid-engine sports cars, SUVs and luxury sedans. So you'll have that portfolio and the sa- liency of the brand will be better understood, but what I also hope to be able to report back in the coming years is that we'll be operating in the context of a luxury company – a luxury company like Chanel that just happens to be selling motor cars rather than handbags. Aston Martin will be understood, first and foremost, as a luxury company, satisfying a certain lifestyle for a certain clientele, and making the most beautiful cars in the world.