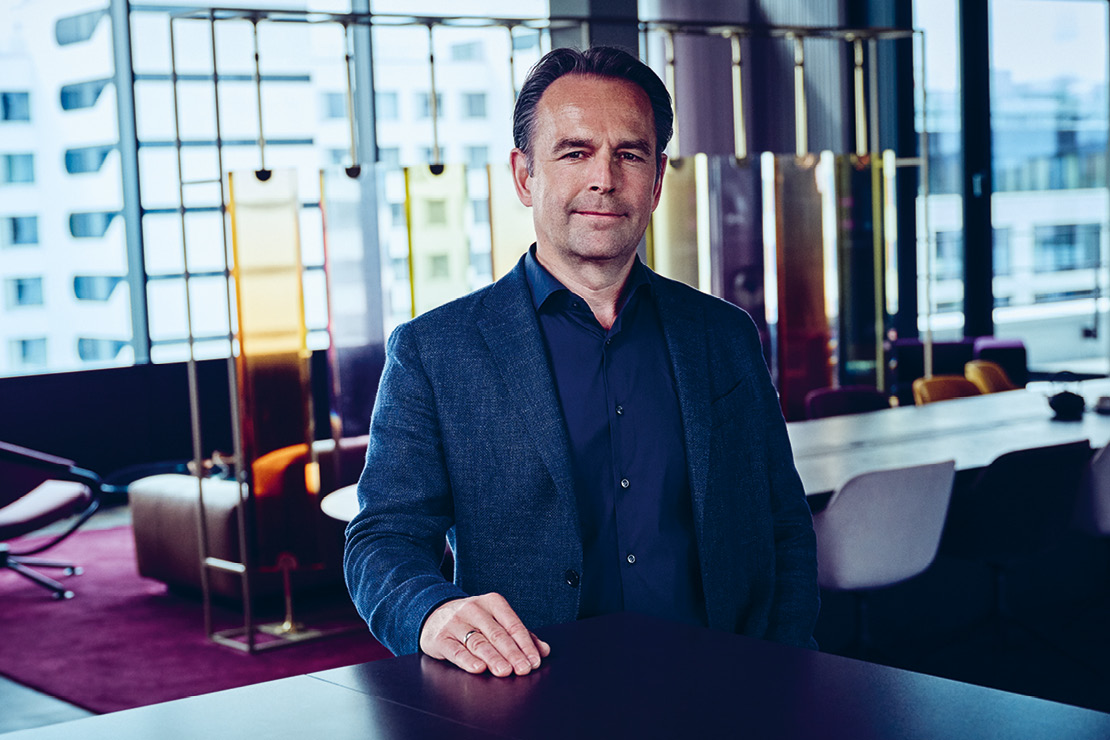 Im Dialog mit Christian Sobottka
President, Automotive at HARMAN
The automotive industry is continuing to undergo a remarkable transformation. As a global technology leader with automotive industry expertise, HARMAN together with SAMSUNG is leading the industry as it tackles this great reinvention of the vehicle. Christian Sobottka, President, Automotive at HARMAN, shares his insights on the evolving automotive industry, HARMAN's »Consumer Experiences. Automotive Grade.« value proposition and how HARMAN and SAMSUNG are answering consumers demand for more impactful in-car experiences.
The automotive industry is undergoing a rapid transformation. How are recent changes in industry transforming the traditional value chains?
An unprecedented disruption is currently happening in the automotive industry. Multiple factors including consumerization and electrification are driving massive technological change, and the way business is structured and done. If we don't move fast, others will eat our lunch.
Consumers expect their cars to keep pace with the fast-changing technologies that are a part of their everyday life. Their car is now a bridge between the physical and virtual world, their digital life. These expectations are much more coined in the consumer electronics space than they are coming from the classical Motor City world.
New market entrants come from the consumer electronics industry and Big Tech companies. OEMs increase their focus on building in-house expertise, and as a result, the traditional supplier roles and value chains are disappearing. We're no longer operating as part of a value chain, but as part of a value network. And in this new network, no one company can go it alone. Companies that are not willing to partner in new ways will get left behind. The same is true for those who don't bring relevant tech assets to the party.
Those that will be successful realize that a wider tech network and closer collaboration with both existing and new partners is required to deliver on consumers' increasing expectations for their vehicle.
At HARMAN and SAMSUNG, we see this not as a threat but as an opportunity to rethink our value proposition and our role in the industry. Instead of a traditional Tier One supplier battling our way through a changing landscape, we are a tech company accelerating automotive innovation and forging the right partnerships to lead differentiation in the vehicle cabin. This is a massive but also very exciting transformation journey for us!
How is HARMAN making this shift? What does it mean to now be a tech company after so many years in the traditional Tier One space?
Simply put, we disrupted ourselves in order to set our own path forward. We have shed our Tier One skin and are embracing a true tech company approach in our business model, our operations, and in our culture.
To complement our existing project business, we have adopted a new business model, the so-called product approach, that mirrors that of the consumer electronics space in both delivery method and speed. For consumers, this translates to new features added on demand at any time, and upgrades in software and hardware released every 3 or every 12 months. And just like on their other devices, these are easily accessible with a few clicks through an app.
Operationally, we are aligning our organizational structure consequently with our new strategy similar to what you would find in the tech industry. We are simplifying the organization, removing hierarchies and investing in upskilling our teams. This sets us up to be much more focused, much faster and solution oriented. In turn, it helps to grow our business and deliver world-class tech partnership value to OEMs.
Culturally, ownership and empowerment are paramount. We are becoming a more nimble organization, having purposefully removed layers in all of our decision making to provide autonomy to our teams and to advance the opportunities in front of us.
Another top priority is interesting work with access to the latest technologies. Our teams make an impact developing new products with cutting-edge tech like AR / MR, AI and Machine Learning. These products enable the new kinds of in-car experiences that consumers want and that provide a true point of differentiation for our Automotive customers. The tight collaboration in mixed teams of Harman and Samsung creates an exciting learning for our teams.
And while we are delivering our new products at tech company speed, they still adhere to the strict standards of the automotive industry. We call this »Consumer Experiences. Automotive Grade.« which is also our value proposition to the market.
What sets HARMAN Automotive apart from the competition in the in-cabin experience space?
If you know our background, it shouldn't be a surprise that HARMAN is leading the way in bringing consumer-centric experiences into the vehicle cabin. With our market insights and future vision as a Consumer Electronics category leader through brands like JBL and Harman Kardon we truly live »consumer first«.
As part of Samsung, we add powerful layers of expertise in the mobile and consumer market. HARMAN brings deep automotive expertise in hardware and software, and technology powering 50 million cars globally, and Samsung is a global top 5 Consumer Brand with significant R&D and a strong patent portfolio. It is a powerhouse combination that no other company in the Automotive industry can match.
Being part of Samsung also infuses a further layer of consumer electronics expertise into our innovation process. Our new Ready Display solution, a portfolio of in-cabin display products whose NeoQLED Auto is enabled by Samsung's leading TV and monitor technology – which is now coming into the car cabin through the work of our joint teams. This kind of cross-pollination with our Samsung colleagues is really flourishing these days and bringing opportunities for the collective team to take big swings together in the ICX arena.
We have shed our Tier One skin and are embracing a true tech company approach in our business model, our operations, and in our culture.
How do you translate your Consumer Experiences. Automotive Grade. value proposition into products that are ready to be deployed today?
We focus our big bets in areas that matter most to end users, an accelerated development cycle to bring new products to market and the desire of keeping them fresh over time. Our new road-ready products deliver on consumers' fast-changing expectations.
For example, our Ready Upgrade product lets consumers add and upgrade vehicle features as easily as they would with their smartphones. And our Ready on Demand product allows them to add premium branded audio features and immersive experiences at any time during the lifecycle of the vehicle via in-app purchases. So, your in-car experience evolves along with you throughout the ownership cycle – very cool!
You spoke of the CE industry as a point of reference for product development cycles and cadence. What does that mean for the way you work with automakers?
The traditional automotive development cycle is no longer suitable for a product strongly defined by software and the ever-evolving requirements of end customers. In the past, the time to market was 30-36 months, partly due to the way the industry works. The new standard as already for example visible in China is trending towards 12-month time to market.
Take the example of an infotainment system. In a traditional project approach, the car manufacturer would come up with a long and detailed list of requirements. But 70 to 80% of them do not provide the car manufacturer with a point of differentiation. With our Ready products, we take an off-the-shelf system for which we defined the specifications ourselves, offer it to the carmaker, and then together with them focus on the much smaller elements that the end consumer sees and that will differentiate the carmaker's vehicle and brand from those of other OEMs. And this 20 percent, we are doing at a much higher speed with very modern toolsets. We're now shifting to a much tighter timeline of 6-12 months, not to mention a 3-month release cycle for software updates.
It takes discipline, commitment and some trust on both sides, but we're already seeing our customers embrace this model as they understand the benefit it can bring to their offerings and their brand.
How is HARMAN helping promote growth and success for leaders across the company?
Our people are our greatest asset, and we are committed to ensuring that HARMAN is a place where the best talent can continue to learn, grow, and thrive.
We have adapted and implemented in the last 24 months our new leadership standards in line with our vision and our cultural target picture. We are creating an environment where trust and transparency are the norm, and our teams foster a sense of belonging.
A key focus of our transformation is to make our employees feel welcomed, energized, and accepted. They are empowered to bring their unique ideas to the table and to be an active part of our transformation. We support them in their careers, whether through ongoing education via platforms like our HARMAN University, or professional training.
The massive, ongoing transformation in HARMAN requires a lot of courage, trust, and empowerment on all levels. Our transformation is a team sport, sometimes very hard but often a lot of fun as well.