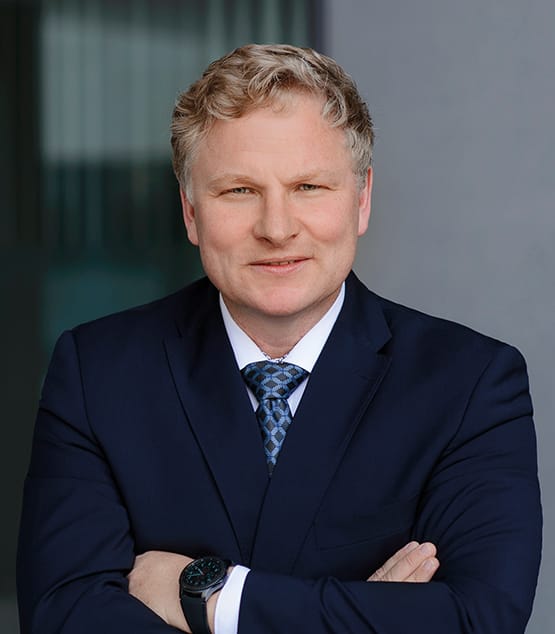 HARMAN & SAMSUNG: ARCHITECTS OF THE CONNECTED CAR EXPERIENCE
Mike Peters, Executive Vice President & President Connected Car Division HARMAN
With the transition from "analog" to "connected", and a future of autonomy, the rapidly changing automotive industry is ripe with opportunities and challenges. HARMAN – a subsidiary of Samsung that builds connected technologies for the automotive, consumer and enterprise markets – is reimagining the in-car experience. Industry-wide collaboration, constant connectivity, unparalleled user experience and expanded safety and security are all critical to the evolution of this revolution. Mike Peters, EVP and President of HARMAN's Connected Car Division, explains how HARMAN and Samsung are joining forces to prove that autonomy is not the destination; it's the on-ramp to innovation.
It's no secret that with the rise of automated driving technology the global automotive industry is undergoing a revolutionary change. In fact, the connected vehicle market in the U.S. alone will grow to 183 million cars, or 61% of the light vehicle fleet, by 2021 (Parks Associates, 2016).
Tech companies and automakers are sparing no expense to keep up with this trend. The in-car experience is becoming the new battle ground for OEMs looking to add convenience and personalization to consumers' everyday lives; safety and security on the road is top of mind thanks to the risks and rewards generated by the Internet of Things; innovation is happening at break-neck speeds every day at countless cutting-edge companies around the globe.
But in order to transform the future of automotive connectivity and mobility we must take the wheel … together. This attitude is enabling HARMAN and our new parent company, Samsung, to become the leaders in connectivity and autonomous driving, and it's what inspires me to come into the office each and every day.
Together we are delivering a bold, new vision
In November 2016, HARMAN and Samsung rocked the tech world with their agreement to join forces. I was lucky enough to join the HARMAN family almost immediately following the closing of the deal in March 2017, which turned out to be perfect timing. The company cultures across both organizations were (and still are) alive with the promise of new levels of scale, efficiency and unparalleled innovation.
Together, we're rising to meet an important challenge: to make the car an extension of the connected lifestyle, rather than a product of a siloed industry. This means in-car technology needs to replicate the type of user experience provided by commonly understood connected products, like smartphones and smart audio. That's why HARMAN and Samsung have made it our collective mission is to become the architects of this experience and the leaders in connectivity and autonomous driving, by connecting the lives of people, whether at home, on the go or together in the car.
Samsung and HARMAN are uniquely positioned to bring this connected lifestyle to life by making sure consumers never miss a beat when transitioning from the car to the home and everywhere in between.
Revolutionizing the industry with speed, resources & innovation
What I admire most about our relationship with Samsung is the balance our companies offer each another. Together, we increase innovation through scale, resources and competencies, leveraging Samsung's global presence, R&D and distribution channels, and HARMAN's deep history of creating rich, in-car experiences that are fueled by technology, yet human at heart.
With Samsung, HARMAN now has all new resources and expertise at our disposal. Samsung spends over $15 billion on research and development every year, employs 300 thousand people across 80 countries, owns and operates 34 R&D centers, and has an unparalleled network of established technology companies, start-ups, universities, and other key stakeholders.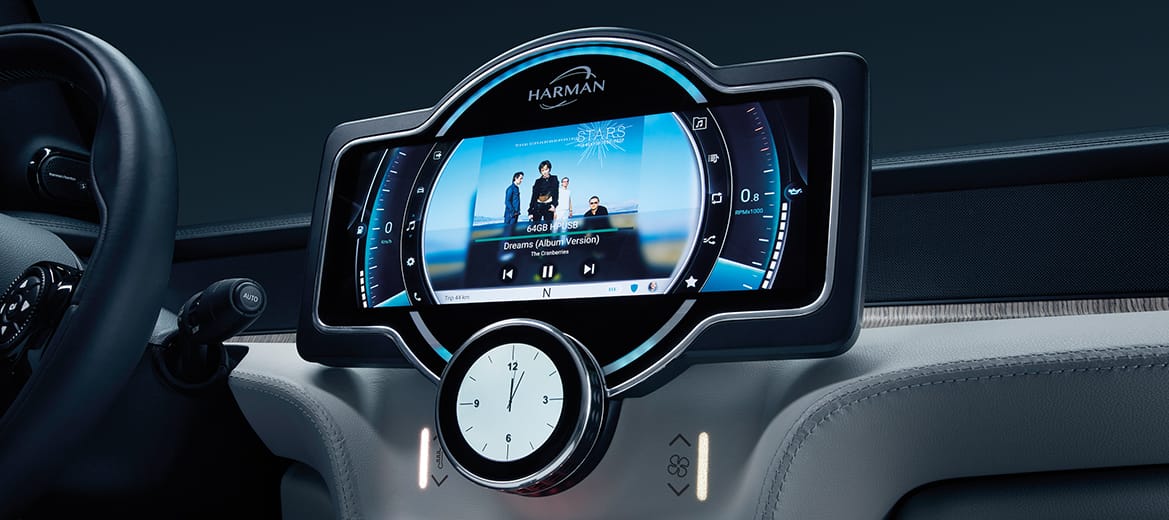 What I admire most about our relationship with Samsung is the balance our companies offer each another.
Our joint effort has already proven fruitful. In less than a year, HARMAN and Samsung unveiled a host of unique connected car solutions at CES, including a first of its kind connected digital cockpit and immersive personalized car audio like Moodscape. In 2017 our professional teams introduced Cinema LED, and Lifestyle/Mobile divisions unboxed the new Samsung Galaxy S8 equipped with premium AKG tuned sound and AKG ear buds.
Perhaps most significantly, Samsung revealed its revolutionary DRVLINE Platform – a first-of-its-kind, open, modular, scalable software-based platform that allows automakers to work together to build advanced, customized cars of the future. Having an agnostic platform is important to us as we believe the collaboration between OEMs and suppliers is the only way future mobility will be successful. These significant collaborations clear the pathway for HARMAN and Samsung to bring the automotive and consumer electronics industries together like never before.
Having an agnostic platform is important to us as we believe the collaboration between OEMs and suppliers is the only way future mobility will be successful.
Reinventing the UX with intelligence & system flexibility
The connective tissue of all our collaborative innovations is the transition from a device-centric to an experience-centric mentality. Getting the user experience right is critical because of the huge market opportunity attached to this value proposition. In fact, two-thirds of millennials are willing to own a self-driving vehicle within the next decade (Edmunds, 2017). Automated driving unlocks the ultimate venue for all new personalize experiences.
Take the Digital Cockpit as an example of how to bring this vision to life, devised, designed and developed with the end-user in mind. We sought out to combine several previously distinct computing domains into one platform that delivers the ultimate in-car experience. Our innovative solution combines the infotainment system, instrument cluster, audio and lighting controls, and connected advanced driver assistance systems into a single hardware and software package. This allows OEMs to develop cockpits that are much more intuitive, easy-to-use and visually-integrated for the consumer.
The Digital Cockpit takes the behaviors consumers are used to performing on their phones into consideration while still keeping drivers safe and focused on the road ahead. For instance, we can now weave together a driver's entire connected lifestyle across the Internet of Things. When driver or passenger enter the car, it recognizes them and connects to HARMAN Ignite cloud and Samsung Smart-Things. This means the in-car user experience is personalized for the driver and passenger via services such as virtual personal assistants, portable profiles, augmented reality and more.
We're confident that Samsung's expertise in IT, mobile and display product development will continue to enhance the Digital Cockpit's capabilities and consumer value. All of this collective intelligence and flexibility is constantly leading us towards an autonomous future.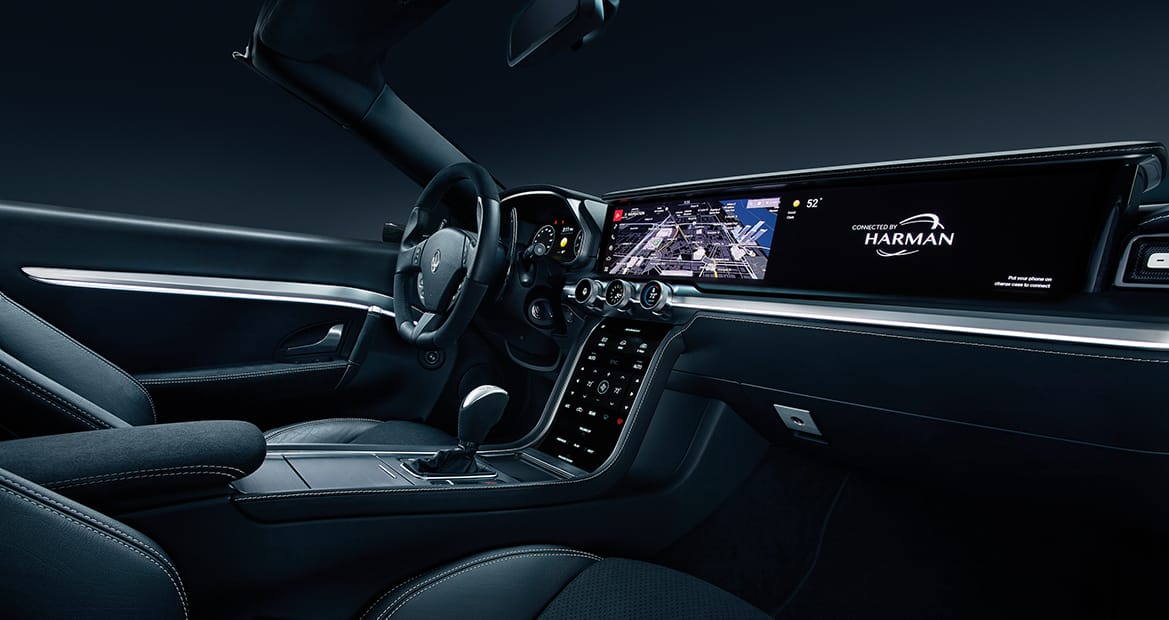 We envision a future where autonomous vehicles make roads safer and less congested thanks to continuous, high-speed data transmission.
Expanding safety and security
Nowadays, people want to stay connected at all times – whether on the road or at home. This expectation necessitates enhanced safety and security measures as cars increasingly become connected to the Internet of Things.
We envision a future where autonomous vehicles make roads safer and less congested thanks to continuous, high-speed data transmission. It's been shown that partially autonomous breaking or controls could prevent or reduce the severity of up 1.3 million crashes a year, including 10,100 fatal wrecks (Carnegie Mellon, 2016).
5G technology and AI will play a pivotal role in this evolution to ensure autonomous vehicles have the situational awareness needed to navigate a wide variety of environments and infrastructures safely. This is why HARMAN is building the industry's first automotive-grade, 5G-ready connectivity solution that will handle today's requirements but will also be flexible in the future when 5G becomes more ubiquitous. Data storage and fast transmission is crucial, according McKinsey & Company, connected cars create up to 25GB of data per hour, which equates to dozens of HD movies every 60 minutes (McKinsey, via Silicon- Republic, 2017). It's projected that the value of this data will be $1.5 trillion by the year 2030 (McKinsey, 2016).
A new future with automakers
The automotive technology market is a crowded one, and with the excitement of autonomy on the horizon, there's even more clutter to cut through. We're no longer just in competition with other automotive suppliers but are part of a future of mobility revolution, along with suppliers, OEMs, technology companies and even rideshare start-ups. We are all innovation partners. In order to lead the pack, we're forging partnerships and harnessing our best technologies and global scale to better serve the needs of automakers in this rapidly-evolving automotive market. The next step is to think beyond "connecting devices" and instead deliver an in-car experience that is entertaining, safe, productive, and secure.
HARMAN is proving that an open ecosystem encourages collaboration, accelerates innovation and breaks down barriers. With this mantra driving our mission, we're looking forward to shaping what the future of connectivity and autonomous driving has in store.