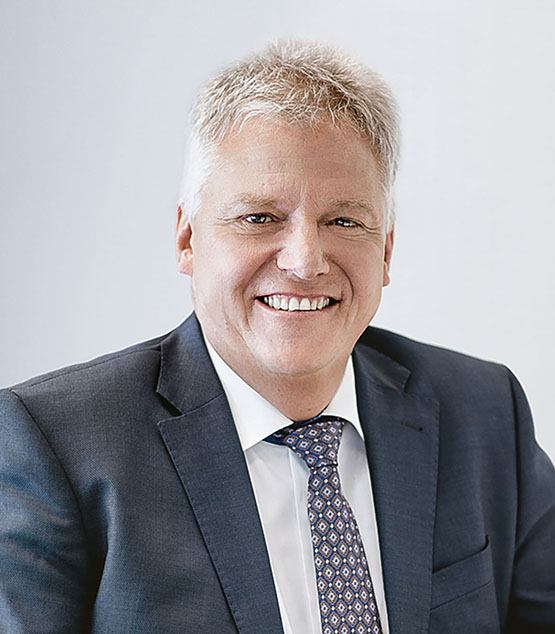 A whole new ride: HARMAN
adds new value to the automotive
experience of tomorrow
Michael Mauser
President Lifestyle Audio Division, HARMAN
The automotive industry has reached a watershed moment in its history as new consumer preferences, tightening regulations, and technological breakthroughs herald a fundamental shift in mobility. The convergence of megatrends in connectivity services, autonomous vehicles, shared mobility, and electric vehicles – otherwise known as C.A.S.E. (Connected, Autonomous, Shared, Electric) – is transforming the future of the automobile and the in-car experience. As the global market leader in car audio and infotainment technology, HARMAN is poised to play a leading role in this transformation.
Since Samsung's 2017 acquisition of HARMAN, creator of connected solutions for the automotive, consumer, and enterprise markets, both companies have worked diligently to harmoniously combine their technologies, expertise, and research in developing and manufacturing world-leading networked pro-
ducts for automakers, consumers, and businesses. Together, HARMAN and Samsung represent a new powerhouse of brands and technologies giving new value to cutting-edge audio and entertainment solutions in perfect consonance with the Connected, Autonomous, Shared, and Electric megatrends.
CONNECTED: amplifying the connected life inside the car
The car of the future will be a living space in its own right, the object of specific entertainment and productivity-oriented technologies, as well as a connected hub for users' everyday lives. With more than 6,000 patents in key domains, including safety, design, navigation, and networking, HARMAN is leading the way in connected car innovations. Our industry-first solutions provide expanded ecosystems, increased efficiency, and more personalized content, while enabling new driver experiences and improved vehicle safety.
Among the key facilitators of the connected auto lifestyle is HARMAN Ignite, a groundbreaking end-to-end cloud-based platform offering customers a one-stop ecosystem that allows them to seamlessly manage connec-
tivity, analytics, applications, and devices. Ignite delivers personalized content, provides insight into vehicle health and usage, and leverages predictive learning to create
portable cloud-based driver profiles. It even connects vehicles through the cloud to other platforms, thus forming a bridge to the Internet of Things, including Smart Cities and Connected Enterprises.
The HARMAN Digital Cockpit is another of our connected inventions that is changing the way consumers interact with their cars. This cockpit is the first of its kind – an intelligent platform designed to offer users the very best of what today's in-car digital technology can achieve. Our Digital Cockpit integrates the instrument cluster with the center console through voice, haptic feedback, physical knobs and steering wheel controls, while incorporating the driver's connected devices. It provides more personalization options than ever before, connects the car to the Internet of Things through an array of apps and services, and ensures the peace of mind that comes from knowing that the system always has the latest features and upgrades thanks to over-the-air (OTA) updates. OTA updates are also the enabler to future-proof the car and its system and thus maintain a high quality experience during the vehicle lifecycle. Same as the infotainment system, software-based audio features can be subject to updates and upgrades, e.g. through OEM storefronts riders will be able to download the latest software features, new audio tunings for their system or even upgrade with complete new DSP solutions to enhance the personal audio experience.
At HARMAN, our primary focus when designing new products and solutions remains the user. We place users at the center of every experience, which is why the notions of customization, personalization, and connectivity permeate so many of our innovations. For example our Connected Jukebox solution presents a new way to share music that uses multiple device connections to allow every passenger to add their favorite tracks to the drive playlist, in real time, directly from their seat. To cite another, our Clari-Fi music reconstruction technology restores the audio details of users' favorite songs, 90% of which may be lost during the digital compression process. That means streamed and downloaded music sounds every bit as crisp and vibrant as the artist intended.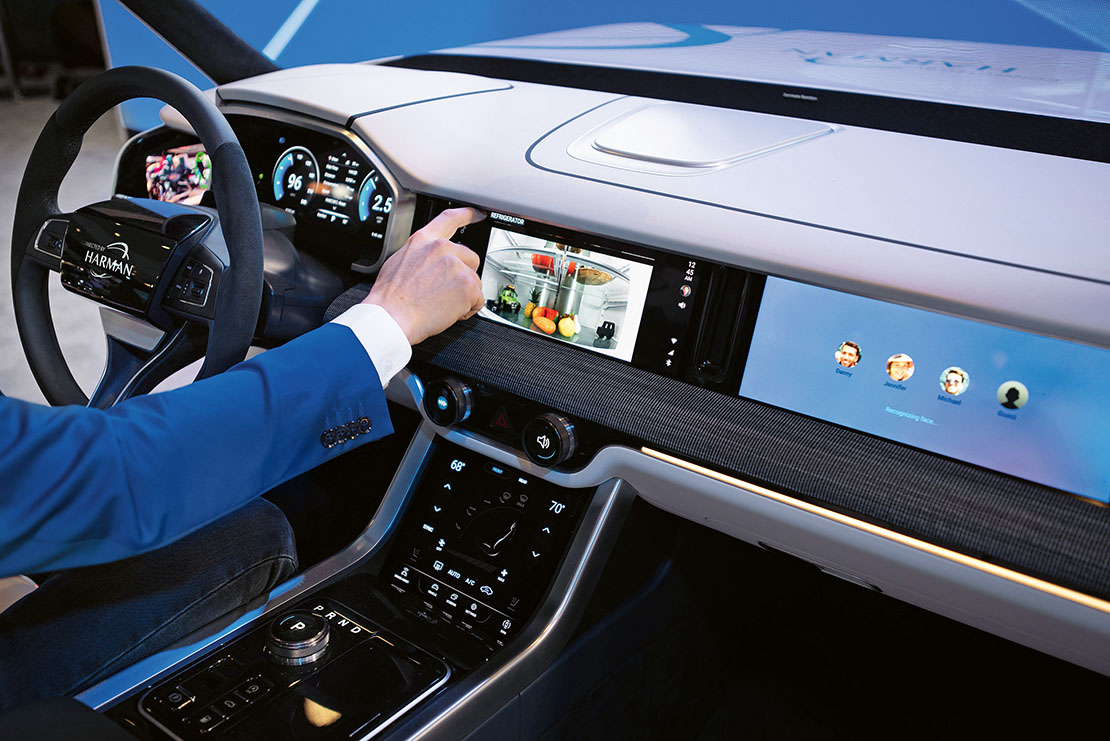 The HARMAN Digital Cockpit is another of
our connected inventions that is changing the way consumers interact with their cars.
AUTONOMOUS: shaping the future of autonomous environments
The day is fast approaching when cars will require no human intervention at all. As drivers are freed from the task of driving, dramatic changes will affect car features and space as traditional, static listening positions give way to dynamic, variable seating environments and activities. The key questions is what car drivers and passengers will do with their time, when they no longer have to steer the car. The answers can be manifold ranging from relaxing to enjoying advanced entertainment offerings to using the car as a mobile office for working. HARMAN is offering a broad range of highly innovative solutions for all of those future mobility experiences. Our Individual Sound Zones and Road Noise Cancellation solutions for example, make the cabin quieter and thus enable relaxation.
It goes without saying that road security in the autonomous car is a priority, and here again, HARMAN is ahead of the crowd. We are creating a safer, smarter, more mobile future through innovations in artificial intelligence (AI), machine vision, autonomous mobility, high-performance computing, and functional safety.
A truly elevated in-car experience stimulates more than just the ears. With MoodScape, HARMAN invites users to discover a truly mind-blowing sensory world of entertainment and comfort developed with autonomous environments in mind. The growing consumer interest in wellness and lifestyle optimization is part of the inspiration behind MoodScape, which leverages smart technologies and adaptive sensorial features to transform the daily commute. Suddenly, the vehicle interior becomes a personal sanctuary with spectacular visual landscapes and soothing
environmental sounds, where users can take a breather or re-energize with mood-enhancing music. User experience is what will define the future of the automobile, and MoodScape perfectly illustrates the type of immersive experience that sets HARMAN apart as a UX pioneer.
The awesome technology behind MoodScape was designed on AudioworX, a new open audio development platform that has taken the limits off of technology-driven in-car user experiences. The open structure of AudioworX means that developers from around the world can contribute their innovative thinking to create, implement, and integrate differentiating next-level car audio solutions. AudioworX has become the backbone for several of HARMAN's latest innovations, with many more to come.
Autonomous environments are not without their challenges, one of which is the in-cabin sonic chaos generated by competing navigation prompts, cell phones, and mobile tablets. In response to this "tech audio clutter", HARMAN has reached another innovation milestone with Individual Sound Zones (ISZ), which relies on signal-processing software to produce directional sound fields and optimize the audio signals used to activate each separate speaker. By creating individual listening zones, everyone wins. Each passenger's personal audio needs are respected, while the overall sonic atmosphere inside the vehicle cabin remains harmonious – which makes ISZ an ideal solution for shared mobility environments as well.
Taking the in-car audio experience a step further, HARMAN's Virtual Venues replicates the acoustic design of famous venues, essentially allowing users to transform their car into another space. Listening to their favorite songs, people feel as though they have been transported to some of the most celebrated performance locations in the world. Through OTA updates, new venues could be added over the vehicle-lifecycle allowing for a more customized offering and application of this technology.
Additionally, with the rise in regular use of voice-enabled devices coupled with consumers' always-on connected lifestyle, communicating clearly on the go, particularly in the car, is more important than ever. HARMAN recently introduced Premium Communications Solutions, a first-of-its-kind modular offering designed to elevate today's in-vehicle communication environment. Leveraging the world's leading microphone, voice processing and noise cancelling technologies, HARMAN's Premium Communications Solutions enable clear, frustration-free conversations for all occupants within a vehicle – with each other, with digital voice assistants and with external call recipients.
For those choosing to work in the self-driving car, HARMAN increases productivity by integrating solutions like Microsoft's productivity suite into its connected car systems. With access to relevant Office 365 services through intelligent personal assistant software, drivers can complete tasks without compromising safety, including scheduling meetings, hearing and responding to emails, automatically join conference calls without having to manually input the phone number and passcode, and seamlessly manage events and tasks throughout the day.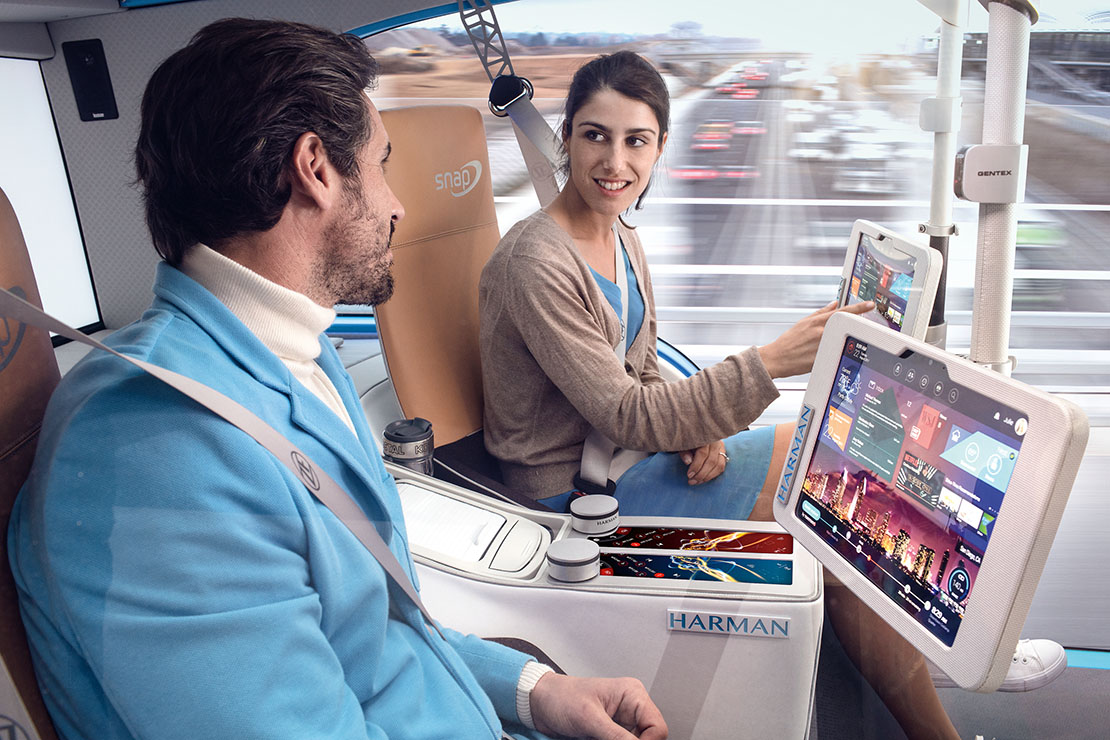 SHARED: one vehicle, endless experiences
The sharing economy is showing no sign of slowing down; forecasts suggest that by 2030 more than one in three kilometers driven could involve sharing concepts. While user preferences continue to move toward shared mobility, users also continue to place a premium on in-vehicle personalization. HARMAN's resolutely forward-thinking technologies transcend this apparent contradiction to provide a personalized user experience even in shared environments.
Personi-Fi is a brand-agnostic cloud-based solution that HARMAN specifically designed for the mobile lifestyle, shared or individual. Using a dedicated app, Personi-Fi captures the user's personal sound preferences and stores them in the cloud. Specialized signal processing then creates immersive 3D sound environments, which can be further customized according to the user's device and environment for simple, seamless, user-specific audio – whether at home, in the car, or on the go.
To meet the challenge of providing a personalized in-car experience amid the rise of the sharing economy, HARMAN leveraged the power of the AudioworX platform to develop Configurable Entertainment. Designed primarily for the ride sharing industry, Configurable Entertainment uses HARMAN Ignite to give shared mobility providers the advantage of offering multiple in-car entertainment possibilities with a single set of hardware. The result is that every passenger enjoys a custom-tailored premium entertainment experience with every ride.
HARMAN's resolutely forward-thinking
technologies transcend this apparent
contradiction to provide a personalized user experience even in shared environments.
ELECTRIC: facilitating the electric vehicle revolution
With emissions-free mobility expected to one day become a global imperative, the electric car has come to occupy a central position in tomorrow's automotive market. As technologies improve, we can expect to see an evergreater proportion of electric vehicles on the road. The transition from conventional to electric has prompted demands for sound systems that are lightweight, energy efficient, and composed of sustainable materials, and has raised the multifaceted issue of EV engine noise – or lack thereof. HARMAN has tackled these problems head-on, with a broad portfolio of solutions that combine environmentally friendly design with dramatic energy savings while addressing the safety concerns specific to electric vehicles.
Beyond the fact that sound plays an integral role in the pleasure of the driving experience, international regulations stipulate that electric and hybrid vehicles must generate continuous sound that provides the audio cues indispensable to pedestrians and other road users. While already applicable in China since 2018, the so called Acoustic Vehicle Alerting Systems (AVAS) regulations will also come into force in Europe and the US in 2019, requiring electric and hybrid-electric vehicles to emit a certain level of sound in different driving scenarios, e.g. when reversing or driving forward at low speed up to 20 or 30 km/h.
In response, HARMAN created HALOsonic Electronic Sound Synthesis (ESS), an internal and external sound management solution that offers OEMs endless opportunities to design unique, differentiating sounds for electric cars, bringing greater enjoyment and security to electric driving environments.
The Connected, Autonomous, Shared, and Electric megatrends promise to transform the automotive industry, and consumers increasingly expect their cars to offer heightened connectivity, interactive features, automatic adjustments, convenient services, intuitive simplicity and a world class audio and entertainment experience. As architects of experience, HARMAN is leveraging its unrivaled expertise in car audio and connected car technologies to elevate the connected lifestyle and shape the future of the in-car experience. I am extremely proud of our products and solutions, and of the impact that they are having on the industry and on the user experience. The future of the automobile offers unlimited possibilities for innovation, and HARMAN is fully committed to leading the way.